Plenty of choice for everyone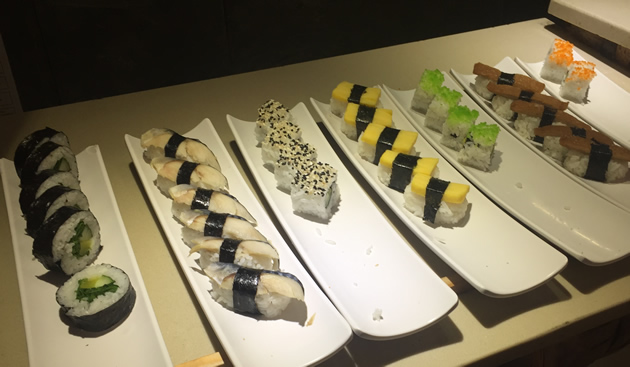 China Banquet
Unit 8, Brentford Lock, Brentford London TW8 8AQ

020 8758 2818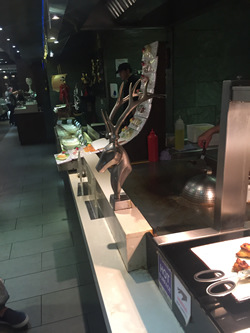 Monday 7th October might have been a rather drizzly night in Brentford, but inside the newly opened China Banquet Oriental Buffet, all was bright and warm.
This large dining room has a central buffet with over 100 dishes of Oriental food encompassing Malaysian, Thai, Japanese and, of course, Chinese cuisines.
After sitting down and being served drinks, you are then at liberty to go up to the buffet tables, grab a plate and start loading it up. And repeat. And repeat. As many times as you want. And you can only hope that all the getting up and down is burning some of the calories you are consuming.

Our party of 5, including one vegan who was concerned about finding anything she could eat, tried to follow the normal starter, main and dessert pattern of eating so we started with the section serving battered squid rings, stuffed mushrooms, tempura and crab claws.
Then we all went our separate ways, some trying the duck pancakes with Hoisin sauce, cucumber and spring onions, another loading a plate with sushi and a rather clever few finding the dim sum hot plate. This provided really delicious char siu buns, steamed prawn dumplings and shao mai. There were sauces from wasabi and soy sauce for the sushi to curry sauce and sweet chilli sauce to add to all the dishes.
Our launch into the main cooked dishes included a very popular green bean stir fry, chicken in lemon sauce and broccoli with garlic. The vegan was pleased with her plate of French beans in chilli paste, stir fried cauliflower, Singapore noodles and Chow mein.
At the teppanyaki grill a chef was cooking dishes to order and produced a nice plate of scallops and salmon with garlic and soy sauce. Next door, at the creperie, a customer was having a pancake with sugar and lemon. All tastes are catered for, including chips, nuggets and ketchup for more cautious guests.
Grabbing a clean plate for each foray felt very indulgent but we quickly got used to this and finished off with a visit to the dessert section where there were some little cakes and custards, a large chocolate cake and a freezer with tubs of ice cream.
Frankly, apart from when we paused while the resident robot sang Happy Birthday to a celebrating customer, we didn't really stop eating. And we were just putting our coats when someone spotted a mini pick and mix sweet section so we all quickly had a handful of Haribo and chocolate raisins before heading once again into the drizzle.
The China Banquet will be open 7 days a week.

Monday to Friday 12:00 to 15:00 £8.50 and 17:00 to 22:30 £16.99
Saturday 12:00 to 17:00 £8.99 and 17:30 to 23:00 £18.99
Sundays and Bank Holidays 12:00 to 22:30 £16.99

Infants under 90cm tall eat for free and children under 150cm are half price.
Last orders are 30 minutes before closing time.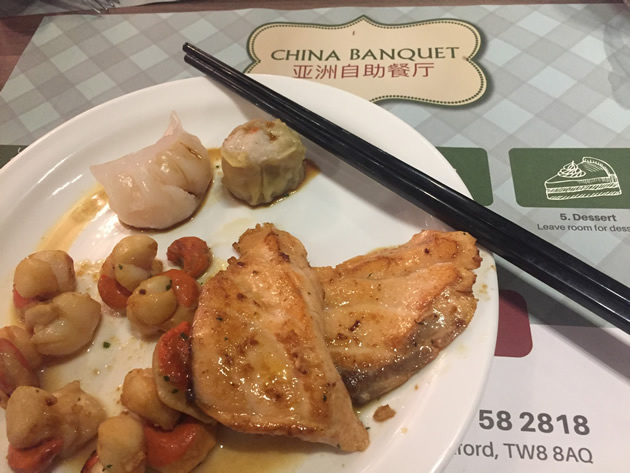 Caroline Villiers
October 9, 2019