If you have a secret twist to update a vintage dish they want to hear from you
Related Links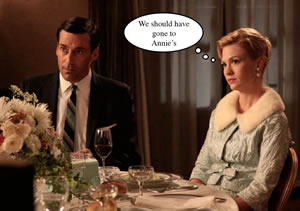 Participate
Annie's is open 7 days a week from 10am to 10.30pm at 36 White Hart Lane, Barnes
Telephone 020 8878 2020 and at 162 Thames Road, Chiswick Telephone 020 8994 9080
Annie's is in a comfort food mood for November, so it's offering customers a chance to win a champagne dinner for two by sharing their retro dinner party favourite recipes.
If you have a secret twist to update a vintage dish and turn it into a modern classic, Annie's wants to hear from you. Share your top tip to win the big prize and have your dish feature on Annie's January menu.
Enter by filling in the competition forms at Annie's in Chiswick or Barnes.
ChiswickW4.com readers can also enter by email to annieschiswick@aol.com for the chance to win a bottle of champagne.
The competition finishes at the end of the month, so get creative!

Advertisement

November 4, 2010