Win for Andrew Slaughter with much reduced majority
Ealing, Acton & Shepherd's Bush Result - General Election May 2005

Cand.
Party
2005

2001

Andrew Slaughter
Labour

16,579

20,144

Jonathan Gough
Con.

11,059

9,355

Gary Malcom
Lib Dem

9,986

6,171

Geoff Burgess
Green

1,999

529

Related links

Contact Andy Slaughter - phone on 07860 815138 or e-mail him at andy@andyslaughter.com

Ealing Acton and Shepherd's Bush Lib Dems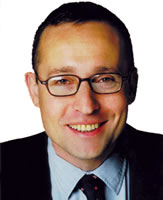 Ealing, Acton and Shepherd's Bush's MP is Andrew Slaughter (pictured right) who was elected in May 2005. The Labour candidate won the seat on a reduced majority of 5,520.
Mr. Slaughter lives locally and his family has lived in this part of west London for as far back as he can trace. He is a governor of the William Morris Sixth Form Academy, and sit on the boards of the Hammersmith & Fulham Community Law Centre and Broadway, the charity for single homeless people.
In the 1980s, he worked with Michael Meacher MP, then a member of the Shadow Cabinet, to help on employment and social security issues. Afterwards he moved to the BBC's 'Question Time' programme. In the 1990s, after training as a barrister, he combined a practice in criminal, housing and personal injury law with his role as Deputy Leader and then Leader of Hammersmith & Fulham Council.

You can contact him by phone on 07860 815138 or e-mail him at andy@andyslaughter.com.
He forced the Conservative candidate, Jonathan Gough into second place although there was a significant swing to the Tories. Mr. Gough said following the result, "The Conservatives halved the Labour majority by focusing on local issues such as the tram, congestion charging and the natural and built environment."
Local Councillor Gary Malcom performed strongly in third place gaining 25.2% of the votes nearly overtaking his Tory rival. Mr. Malcolm was elated with his party's performance and is confident of further successes, "With the boundary changes that will come into affect for the next general election here Lib Dems will certainly be favourites to win given our recent successes. The Lib Dems locally will continue to campaign on matters that affect the residents of our area. I look forward to anticipation to the local elections in May 2006!"
Geoff Burgess the Green candidate said: " I was particularly delighted with the reaction of the young people I met during the campaign. The other parties are frying the planet. Young people know we have to take action now."
This increase in the constituency follows a nationwide increase in the Green vote in every single seat – bar one - that they stood in compared with the 2001 results.
In the last election Clive Soley's majority for Labour was reduced from 15,650 to 10,789 with his share of the vote down to 54.1% from 58.4%. Andy Slaughter's share of the vote fell to 41.8% this time around.
Turnout was 39,623 which represents 56.2% of those eligible to vote an increase of over 3% on the last election.
October 25, 2005