Find out what local politicians have to say about education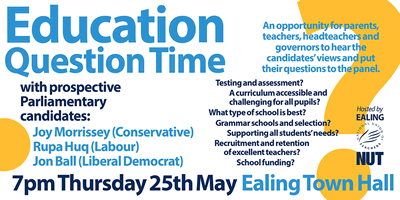 Candidates hoping to win the marginal Ealing Central and Acton seat on 8 June will take part in a panel debate focussing on Education.
Sponsored by the National Union of Teachers (NUT) the event will be held in Ealing Town Hall on Thursday 25 May at 7pm.
Rupa Huq (Labour), Joy Morrissey (Conservative) and Jon Ball (Lib Dem), will be given the opportunity to put across their points and answer questions from parents, teachers and governors.
The NUT want Education to be high on the General Election agenda and are hoping for a high turnout.
Issues to be discussed will include school funding, Grammar schools, testing and assessment.
10th May 2017