Susan Stanley Carroll reviewed the annual Christmas show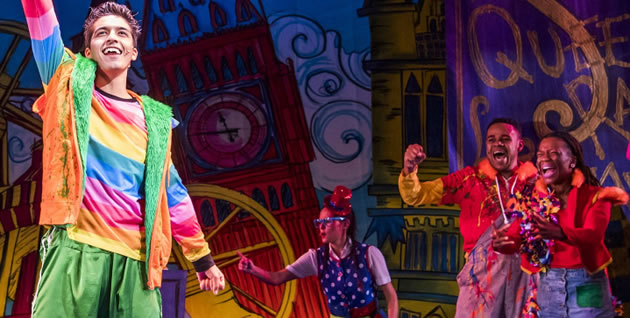 Hammersmith's Lyric Theatre 2018 pantomime rendition of Dick Whittington is a brazen, bouncing and gloriously gutsy show. In, that, there is no doubt. But in case you're not a fan of 'Carry On' style comedy you might need to prepare yourself and your young'uns for a night of glitz and glamour but also strings of euphemism obsessed gags.
Ok, so the 'off the wall' humour tickles at the start when a play on words about 'Dick' puts the audience in good spirit. After all, we are British, and we do like a good 'double entendre'. However, after half an hour or so my son and I started to yawn, fortunately, we stayed for the second act when the show truly fired into big-time-pantomime-action.
So, it's not all about how hard Dick is, and despite the humour, seemingly being set in the 1960's, this production is a twenty-first century show and a glittery way for the Lyric, Hammersmith, to celebrate its 10th anniversary pantomime.
Jean Chan's set and costume designs are exuberant and so 'out of this world' that they create a perfect setting for all the eccentric pantomime characters; as well as adding zest to the plot.
For instance, at the beginning of the second act a true-to-life pirate ship explodes onto the stage and morphs into an enchanting sea-bed scene with starfish, seahorses and various luminous sea creatures.
The costumes were fabulously garish creations including a Bake-Off tiered frock, a chicken gown (made from rubber gloves), and, finally, a Rule Britannia speciality - a dynamic little number that would have delighted any audience at the Proms.
Some of the performances were under played, but there were some stand out Show-Stealers.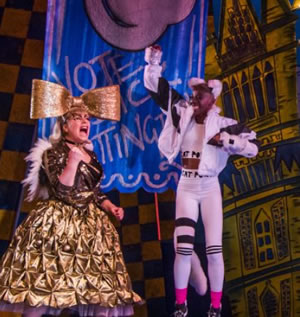 Jodie Jacob's was outstanding as Bow Bells, the 'Goodie'. She lit up the auditorium with her magnificent voice and exuberant acting. If you have a moment, google her name and check out her videos. She is one to watch and I for one want to see much more of her.
Queen Rat, played by Sarah Louise-Young, was the pantomime genre ' baddie' and was excellent in her sense of wickedness. The pantomime Dame - Carl Mullaney – did an impressive job of keeping up spirits, despite being laboured as 'officer-in-charge' of the 'dick' jokes.
The main cast was also superbly supported by an ensemble of energetic young performers, who are, part of the Lyric Hammersmith's commitment to nurturing young talent.
In a nutshell, the dancing is fun, the songs are a giggle and the script incorporates clever asides to Scottish nationalism and Brexit; without causing offence - in the way only a pantomime can do. There is a little bit of everything for everyone although I'm not sure that children under 6 years will be able to follow this fast paced and mischievous musical.
If you are feeling ballsy, certainly not if feeling soft (I apologise), then go to this eye catching, garish and in many ways a classical but contemporary pantomime.
Susan Stanley-Carroll

December 1, 2018