Over 183,000 tests distributed to combat South African variant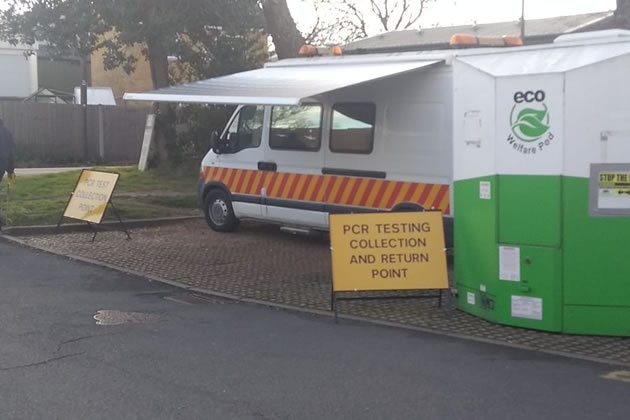 A PCR testing centre in Roehampton
The massive surge testing exercise in which people in the borough of Wandsworth were urged to get tested for Covid-19 has come to an end this Monday (26 April).
Everyone over the age of 11 was asked to get a test after up to 70 cases of the South African variant were found in Wandsworth and neighbouring Lambeth.
Both councils asked people to take a PCR test even if they had no symptoms because these tests can identify specific variants.
Wandsworth Council says it has provided 183,000 tests and appointments as part of the surge testing effort.
The Office of National Statistics estimates there are 329,700 residents in the borough as of mid-2019.
The number of positive coronavirus cases, and whether there are any additional cases of the South African variant found through surge testing, is not yet known.
The number of cases reported on the government's dashboard for the borough has gone up slightly, but this is unsurprising given the number of people being tested.
Around one in three people who have COVID-19 do not have any symptoms and can spread it without knowing.
Before surge testing, in the seven days to 12 April, the case rate was 26.7 per 100,000 people.
This has fluctuated up and down since, but in the seven days to 20 April (the latest data available) the case rate had gone up slightly to 30.3 cases per 100,000 people.
Wandsworth Council has thanked everyone who has got tested so far.
A spokesperson said, "Working alongside colleagues at the Department of Health, NHS Test and Trace and also with pharmacies and schools in the borough, we have helped organise the distribution of more than 183,000 tests to help us monitor and suppress this variant of concern. Most have been home test kits and we are urging everyone who has a home test kit to make sure they return it as quickly as possible.
"We are hugely grateful to the people of Wandsworth for supporting this surge testing effort. The more cases of the variant we find, the better chance we have at suppressing it. Please help to keep your community safe by getting tested so we can find the variant and protect you and your loved ones."


Sian Bayley - Local Democracy Reporter

April 27, 2021