Some locals want postponement after 'significant' changes made to scheme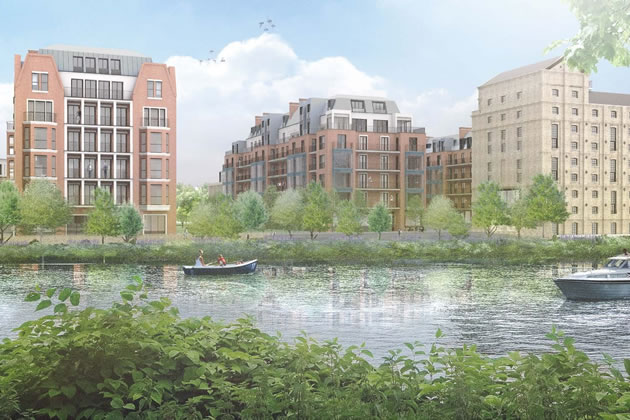 The Stag Brewery Redevelopment viewed from Chiswick. Picture: Exhibition, Squire & Partners
A public planning hearing for the proposed Stag Brewery development in Mortlake will go ahead on 27 July despite objections from locals and members of the London Assembly.
The application to Richmond Council was called in by the GLA in May 2020 to be considered by Mayor of London Sadiq Khan, given the size and scope of the proposed development.
But "significant" changes to the proposals have been made in that time and the London Assembly last week called on the Mayor to delay the public hearing over fears that locals have been "left out" of discussions.
Nicholas Rogers, the Conservative Assembly Member representing the South West constituency which includes Richmond, last week said in City Hall that it is "essential" to allow locals to have their say but that "there isn't time to have those meaningful discussions between now and the end of July".
Despite Mr Rogers' motion calling on the Mayor to pause the hearing successfully passing in the Assembly, Sadiq Khan has now confirmed that he does not intend to delay.
In a letter to Nicholas Rogers, Mr Khan said that deferring the hearing would "raise issues around the timely nature of decision making" and that the planning system must play an "important part" in addressing the challenge of housing delivery in London.
The Mayor also said that there is "no mechanism for formal consideration" of amendments proposed by locals and that he is "required to determine the scheme before me".
But speaking to the Local Democracy Reporting Service this week, Nicholas Rogers has said that this is a "flaw in the call-in process".
Mr Rogers said, "There are understandable concerns about development in that area. The key point is, the residents, they're not anti-development at all. No one really wants a big empty site, but once it's done it's done, and they want to make sure that whatever is done is something that will benefit the community rather than detract from it.
"Especially since the application was called in by the Mayor, residents feel left out of those discussions. They've done freedom of information requests that show that the developers met I think 21 or 23 times with the GLA planning team, but until recently – I mean the last two or three weeks – they haven't been able to get a meeting with GLA planning officers on site to discuss their concerns."
The original proposal included plans for 843 units on the site of the historical former Stag Brewery, but that has since increased to more than 1250 units.
Clare Delmar is a local resident who founded the group Listen to Locals earlier this year that campaigns for greater public engagement in planning decisions.
Ms Delmar has said she felt "outrage" upon learning that the public hearing would not be deferred and has stressed that the development is a "public health" issue.
She said, "We are coming out of a pandemic. The world has changed, both in terms of what we know about health, what we know about transmission of disease, what we know about health inequality, and what we know about health-related behaviours, whether its working or distancing or exercise.
"When you are going to grow the population by 90 per cent, which is what this scheme does, and you don't have any change in the health impact assessment that underlies this project, I find that outrageous. The health impact assessment, if you can even find it, is dated July 2020. It doesn't even mention a pandemic."
Sadiq Khan has said that the public hearing on 27 July "will give interested parties the opportunity to make their case and make clear their concerns in an open forum and will ensure decisions are made transparently".

Joe Talora - Local Democracy Reporter
July 10, 2021