Mayor urged to cut 'frivolous spending' in his final budget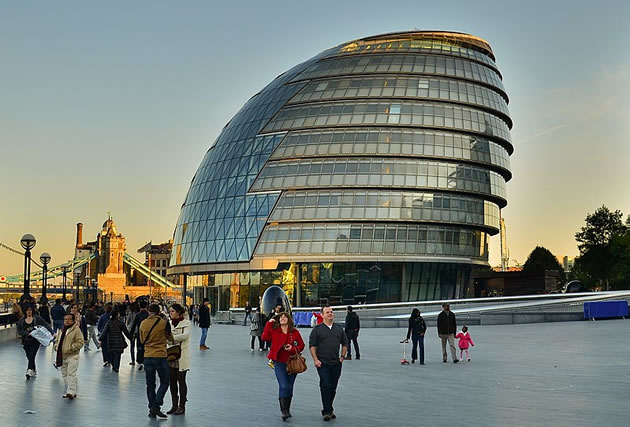 Picture: Garry Knight
Sadiq Khan spends 26 per cent more on press officers than Boris Johnson did when he was Mayor of London, new figures reveal.
The Mayor's media team spend has increased from almost £733,000 in the final year of the Mr Johnson's mayoralty to almost £921,000 last year.
The number of press officers employed has also increased, Mayoral questions from Conservative assembly members show.
Overall, the cost of the Mayor's office – which includes all staff, research, and admin costs – has risen 60 per cent since the last election.
Mr Khan has spent £6 million maintaining his City Hall team this year, compared to a £3.8 million spend in the last year of the current Prime Minister's London tenure.
The Mayor's team say costs have increased because more powers are now devolved to the capital – including on housing, adult education and healthcare – so new staff are needed.
In the media team, two new officers were appointed in 2017 after the terror attacks and Grenfell fire, to help cope with serious incidents – since last year, these have been permanent roles
Salaries for senior Mayoral appointees are also lower than under Boris Johnson's leadership.
But London Assembly Conservative group leader Susan Hall said it "beggars belief" that the Mayor is spending more money on self-promotion as crime rises in the city.
She said, "Sadly, this is just the tip of the iceberg. Ever since he was elected, Sadiq Khan has consistently and shamelessly prioritised wasting money on waste, PR and bureaucracy while entirely failing to get to grips with the biggest challenges facing our city."
She called on the Mayor to "change course" and cut "frivolous spending" in the final budget of this mayoral term.
Mr Khan's spending plans for 2020-21 are currently being scrutinised by the Assembly at draft stage. The Mayor has again budgeted £6 million for office costs, the same as for the current financial year.
A spokesperson for the Mayor of London, said good value for tax payers was "at the heart" of Mr Khan's agenda, and he makes "no apology" for his work for London.
He said: "It is unfair to compare the current Mayor's Office budget with that of his predecessor because the previous Mayor was reducing the scope of his administration during his last year at City Hall.
"Since he was elected, the Mayor has received additional powers across a range of areas including housing, skills and healthcare."
Digital charts of rising costs: Cost of Mayor"s Press Office
Cost of Mayor"s Office (As a Whole)
Jessie Matthewson - Local Democracy Reporter

January 10, 2020