ULEZ expansion, major housing developments and decisions on road measures expected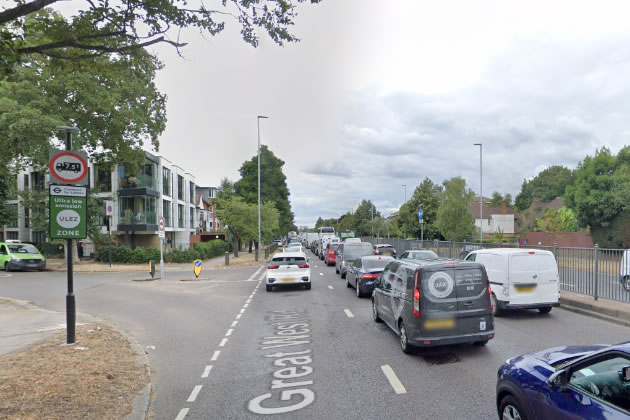 Residents hoped for an end to major roadworks on the A4
January 4, 2023
Decisions on controversial traffic restrictions, driving charges and more homes on an iconic landmark are big changes happening in the borough of Hounslow this year.
One of the biggest changes in 2023 will be the expansion of the Ultra Low Emission Zone (ULEZ) which will cover the whole borough in August. The expansion, which means that anyone driving an older non-compliant vehicle in the borough will pay at least £12.50, has been welcomed by the council.
The ULEZ is currently in place across Chiswick, but this summer it will be expanded to the whole borough. This means people in Brentford, Hounslow, Feltham and Isleworth will be asked to pay the charges to drive in the city if their vehicle does not fit the criteria.
Councillor Katherine Dunne, Deputy Leader of Hounslow Borough Council and Cabinet Member for Climate, Environment and Transport Strategy said, "The decision means that the residents of our borough can look forward to the many benefits of clean air by significantly lower levels of air pollution and improved health as a result.
"As a borough, we are also committed to introducing a series of supporting measures to help residents and businesses make the transition to a low-emission and low-carbon future. Starting as a council, we have committed to reducing carbon emissions by 50per cent by 2026 from council operations. We are supporting the work of TfL with the expansion of Cycleway 9 across the borough so cycling becomes a safer, easier option for local journeys to work, leisure or school."
A new planning application is also set to be submitted for the Griffin Park site which welcomed football fans for years before Brentford FC moved to its new home in 2020.
More than two years after Brentford FC left Griffin Park, the number of homes built on the old stadium could double if developers submit a new planning application to Hounslow Council. The former football ground is set to be turned into at least 75 homes, but developers intend to ask the council to build more than 140 new houses and apartments instead.
Hounslow Council approved plans to turn the 117-year-old ground into 75 homes, ranging from two to four storeys in 2015. The plans also included 102 parking spaces, plus a memorial garden to remember the football ground that stood before.
A new planning application is set to be submitted to the council this year. The new plans will include 41 houses, plus 108 flats ranging from one-bed to three-bed homes. Developers hope to reduce the number of three-bed houses, but increase the number of one and two-bedroom flats available in the new application.
Last year an EcoWorld London spokesperson said, "For the last two years, EcoWorld London has been working on a revised masterplan for Griffin Park. The proposals, which EcoWorld London consulted with the local community and Brentford supporter groups in Spring/Summer 2021, would deliver 149 new homes including family housing as well as one of the largest new public parks in West London."
Traffic continues to be a contentious issue in Chiswick, with the A4 Great West Road works coming to an end and residents finally hearing if restrictions along certain roads will remain.
For residents in Chiswick, the news that work along A4 Great West Road is set to come to an end will be joyous. Transport for London began the vital work on Cromwell Road Rail Bridge, which carries the A4 over a railway line between Chiswick Roundabout and Hogarth Roundabout, in November.
Due to the cold weather, TfL said the work would be completed in the new year. To finish the job, there will be a full eastbound closure between M4 junction 2 and Hogarth Roundabout and the closure of one lane westbound between Hogarth Roundabout and Chiswick Roundabout.
The closures will be in place from 11.30pm on Friday (January 6) until 5am on Monday (January 9), and the same closures will be in place from January 13 until January 16. Drivers making long journeys are advised to use the A40 Westway and M40 to travel between Central London and the M25 while locals are advised to use public transport.
The traffic measures implemented in Chiswick have divided neighbours. In November, a meeting between residents and councillors became heated as residents explained how the measures, which stop traffic at specific times of day, have impacted their lives.
Those in opposition to the measures say that friends and family are unable to visit, and the restrictions make it difficult for carers and other essential workers to visit households who need them. Residents in favour said they felt the air was cleaner since the restrictions were implemented.
Hounslow Council implemented traffic restrictions along Burlington Lane and Staveley Road in January 2022, with a consultation running in the Autumn. The results of that are expected in early 2023, which will decide whether to make the measures permanent or not.
Hounslow Council has ambitious plans to become net zero by 2030. To support this effort it is implemented a Low Carbon Neighbourhoods Programme.
In 2023, The Strategic Business Case (SBC) for the delivery of the Low Carbon Neighbourhoods Programme will be presented to the Cabinet. In the plans, the council has the following targets:
Planting 20,000 more trees and growing more wildflowers in parks.
Investing £5 million into parks and open spaces
Improving resilience to flooding
Ensuring all council housing meets Energy Performance Certificate (EPC) Band B or is as energy efficient as possible
Classifying 45pc of the borough as Green Infrastructure
Encouraging more people to recycle more of their waste
Improving the borough's air quality by providing safe walking and cycling routes and good public transport options
Installing more than 2,000 additional electric vehicle charging points
Hounslow's Air Quality Action Plan (AQAP) is also scheduled for an update to be published in autumn 2023. It will build upon actions in the 2018-2023 plan, aiming to tackle newly identified issues of air quality in Hounslow.

Megan Stanley - Local Democracy Reporter