Over 400 in people in Hounslow borough set to lose their home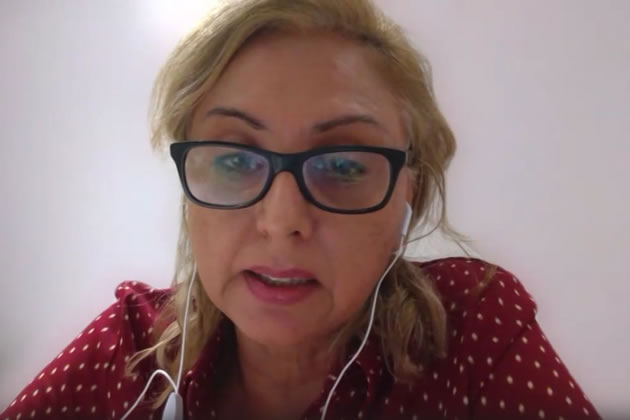 Cllr Lily Bath speaking at a previous Hounslow Council cabinet meeting
More than 400 people in Hounslow could lose their homes once the eviction ban is lifted, it has been estimated.
People who have lost their jobs and those in private accommodation could fall into homelessness after the coronavirus housing exemptions end according to "pent-up demand" expected by Hounslow Council.
A report to the borough's cabinet revealed an estimated extra 300+ people were requiring housing since March, including reasons such as rough sleeping, hospital discharges, domestic abuse and parental evictions.
'Hidden homeless' such as single people sofa surfing was also flagged further through the pandemic, as household mixing bans meant more people were forced onto the streets.
In a cabinet meeting on 8 December, the council's deputy leader and cabinet member with responsibility for housing, Lily Bath said: "We've had huge pressures on the service, in fact there's been an unprecedented demand on housing.
"For example calls to the centre have risen from about 500 to 2,000 people [a month] just making enquiries around homelessness, the number of people becoming homeless has increased."
Cllr Bath also reported on housing service's performance prior to the pandemic, praising work done to reduce the numbers of people in temporary accommodation in the last five years.
"I think back in 2015/6 we had huge numbers of people in temporary accommodation and obviously the cost of that is very high," she said.
"We were able to reduce that from about £3.7m to £1.3m, and that was really due to our focus on preventing people being homeless where possible."
According to the report, as of December 31, 2019, Hounslow had the second lowest number of households in temporary accommodation with 683, compared to neighbouring London boroughs Hillingdon, Harrow, Hammersmith and Fulham, Brent, Kensington and Chelsea, and Ealing.
From Ministry of Housing data, Ealing recorded the highest numbers with 2,269 households, and also reported the highest numbers of households placed outside of the borough at 862. Hounslow however placed 35 households in a different district, while Hillingdon placed 47, and Harrow, none.
Going forward, cabinet members agreed to allow residents earning up to £30,000 a year – increased from £25,000 – to join the housing register.
Transport boss Hanif Khan speaking in favour of the move said: "I think it's really important we've taken that step…our families are growing, many are living in overcrowded accommodation, and this will allow them to move out and get a larger property for the families to move in to which I think is a fantastic step."
Decision makers also agreed that all new homes built by the council will be let at council rent levels, as the council is "often" finding residents cannot afford to pay London Affordable Rent (LAR) due to low or erratic income.
It will mean on average a one-bedroom property will cost £98 per week in council rent, compared to LAR at £160 per week, and £250 per week minimum at market value.

Anahita Hossein-Pour - Local Democracy Reporter

December 10, 2020