Team now go on to semi-final in February
A team of Sixth Form boys from Latymer Upper School are celebrating their success in the London heat of the Bank of England Target Two Point Zero competition.
The boys won their heat against fierce competition from schools such as St Paul's Girls and Sutton Grammar.
The team, made up of Ben Rosenbaum, Seb Warshaw (Captain) , Arjun Babber and Kieran Chopra, with Mark Preston as reserve, gave a presentation to judges, and then faced heavy cross-examination from the Bank of England representatives.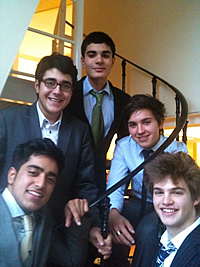 Target Two Point Zero - the Bank of England and The Times Interest Rate Challenge - gives teams of students age 16 to 18 the chance to take on the role of the Bank of England's Monetary Policy Committee, assess economic conditions and the outlook for inflation and tell panels of judges what monetary policy they would set to achieve the Government's inflation target of 2.0%.
The Latymer team, under the direction of Mr Sennett from the Business Studies and Economics Department, now go forward to the semi-final rounds in February.
To win the regional round, the teams had to recommend what level interest rates should be set at for the month of December. Latymer recommended it stays at 0.5% and have been waiting to see if the committee follow their advice!
December 2, 2009