in Tooting by Wandsworth Council
Related Articles

Homeowners who are having works carried out to their property could face legal action if the waste or builder's rubble is not removed by a licensed carrier. Property owners who use unlicensed or "dodgy" refuse clearance firms can be held liable if the waste is subsequently flytipped.

The council provides two refuse amenity site for residents at Smugglers Way in Wandsworth and Cringle Street in Battersea. People who want advice can telephone (020) 8871 6396. A bulk refuse collection service is also available by calling (020) 8871 8558.

Participate
Comment on this story on the forum
The van suspected of being used to illegally dump waste in Wandsworth have been seized and taken off the roads, following action by the council and the police.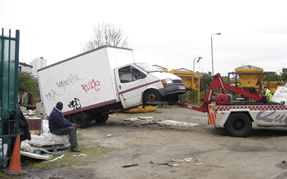 The first, an H-reg Ford van was impounded by the council's street care team in April after it was spotted in Bickley Street, Tooting. The vehicle had been seen flytipping waste

in Arnewood Close, Roehampton.

The vehicle has now been impounded while efforts to trace the owner continue. If the owner is not traced it will be crushed.

A second vehicle was an R-reg Ford Transit tipper truck, which was seized following a joint operation involving the police, Wandsworth and Merton Councils and the Environment Agency. The van was removed from the Trewint Street caravan site in Earlsfield after evidence emerged that it had been involved in flytipping and the illegal carrying of waste materials. Unless the owner comes forward to reclaim the vehicle it too will be destroyed.

Only persons licenced by the Environment Agency are permitted to carry away and dispose of waste. Unlicenced individuals who offer to remove waste, especially those who do so for cash and do not offer a receipt, are breaking the law. The Council is concerned as these "cowboys" often tout for business by knocking on doors. They usually transport the waste literally just around the corner and then dump it, leaving council tax payers to bear the cost of the clean up.





June 15, 2005