Prime minister declines to condemn local Conservatives
A major row has broken out after Ann Keen raised concerns about the composition of Hounslow Council during Prime Minister's question time.
She asked Tony Blair to condemn the decision of the Conservatives to enter into a coalition with Phil Andrew's Isleworth Community Group on account of him formerly being a senior member of the National Front.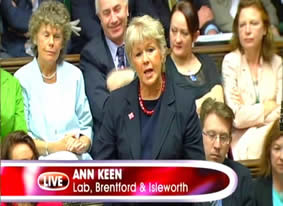 The Prime Minster replied that he was unaware of the specific circumstances but said that would "be deeply regrettable if anyone was in alliance with people who do not conform to the principles to which I hope we all conform."
Hounslow Council is currently being run by a coalition between the Conservatives and the ICG. The question in parliament appears to be an attempt to drive a wedge between the two parties. The local Labour party have also claimed that Councillor Andrews should not have been given portfolio responsibility for Community Safety because he had served a prison sentence for Actual Bodily Harm on a police officer an offence which occurred during a National Front demonstration. A senior police officer has dismissed these concerns about Cllr. Andrew's criminal record as irrelevant as the offence occurred in the eighties.
In response to exchange between Anne Keen and Tony Blair, Phil Andrews said, "The Prime Minister clearly wasn't prepared to give the answer that Mrs. Keen had been looking for. In all good sense her question ought to have been put first, not to Mr. Blair, but to the Leader of the Labour Group on Hounslow Council, who five weeks ago at the Borough Council AGM approved my appointment to the Executive along with all 23 of his colleagues.

"My past, which has been well-documented as has my total renunciation of racism and fascism, seems not to have been a problem for the Labour Group until I assumed the Housing portfolio, which would appear to have been the trigger for this sudden flurry of activity."

July 1, 2006