Inspector Mark Weston explains latest crime figures on local buses
According to figures released by Transport For London (TfL) there has been a significant rise in violent crime on local buses with recorded incidents of attacks up by 42%.
"I have asked TFL for a breakdown of these offences, as I personally was surprised by these figures," said Inspector Safer Transport Mark Weston. "This increase flies in the face of a year to date reduction of 5% for all crime on the bus network in Hounslow."
'Violence against the person' incorporates several different offences as below.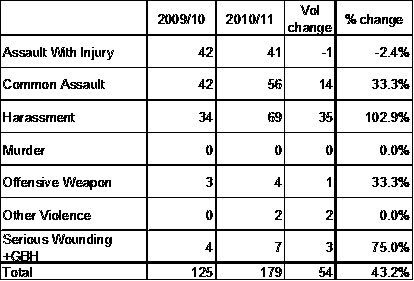 "You will see that the vast majority of the increase arises from common assaults and harassment, which fortunately are at the lower end of the violence spectrum. Whilst 'common assault' covers victims with no visible injury, the harassment category includes several public order offences," explains Inspector Weston.
"Further analysis of these harassment offences from TFL shows that the majority of the 69 offences were 'police generated'. These will be Section 4 and Section 5 Public Order Act offences that I believe have increased as a result of additional policing. The staffing levels ( of PCs, not PCSOs) on the Safer Transport Team improved greatly between the two periods, such that we acquired a greater enforcement capability.
"Incidents that previously would have gone unreported and therefore not dealt with, are now recorded and prosecuted. Indeed many Section 5 offences arise as a result of police intervention into a lower level incident, where the member of the public reacts adversely.
"I remain confident that crime levels are moving in the right direction and that we are targeting our attentions effectively and appropriately. For the reason given above, the bare statistic of 54 additional reports does not truly reflect what is happening."
February 24, 2011