Routemaster trip to City Hall to present bid to become 2021 Borough of Culture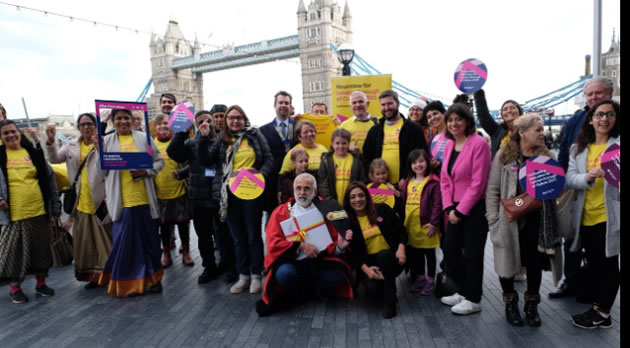 A delegation from Hounslow led by Leader of the Council, Cllr Steve Curran; Mayor of Hounslow, Cllr Tony Louki, and Lead Member for Leisure Services at Hounslow Council, Cllr Samia Chaudhary, made the journey to City Hall (Monday, October 28th) as part of the bid to be named Borough of Culture.
They were joined by representatives of Feltham Arts, Watermans, Creative People & Places, Tale Be Told Theatre, Kempton Steam Museum, Speak Out Hounslow and Artjar as well as various writers, residents, local musicians, community groups and journalists from Hounslow, approximately 60 people in all.
Hounslow is bidding for the 2021 title and brought its bid to City Hall aboard a campaign-branded vintage 1963 routemaster bus, courtesy of RedRoutemaster, the Brentford-based bus-hire company.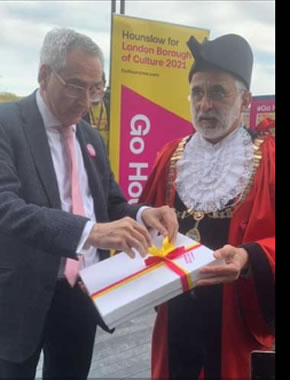 The borough's bid uses culture as a catalyst to create an unstoppable movement of people, ideas and opportunity. The concept of a 'Culture Superhighway' will unlock opportunity, connect people, and celebrate the borough's cultural gems.
London Borough of Culture in 2021 is a GLA-backed initiative to promote culture across the capital which will provide an opportunity for the borough to get an extra £1.35m funding for cultural activity. The Cabinet's approval of the bid last week included a commitment to match funding of up to £337,500, plus £67,500 in in-kind support in the event of the bid being successful.
The borough's cultural activity is dispersed across the borough with two council-funded providers; Feltham Arts and Watermans Arts Centre delivering a range of activities across the borough.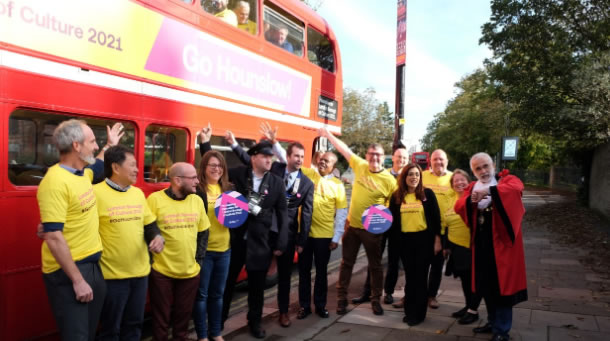 The bus set off from Feltham Library, and the route went to the Watermans Arts Centre, via Gunnersbury Park, and Chiswick House before arriving at City Hall.
Once they arrived, the delegation proceeded to the entrance of City Hall, where they were joined by Seema Malhotra MP and greeted by Cllr Tony Arbour, a member of the London Assembly representing South West London and a former Richmond councillor. Mayor Louki and Cllr Curran presented Cllr Arbour with a symbol of the borough's intent in the form of a Hounslow Culture Superhighway ticket in a presentation box.
City Hall will release information on a shortlist of bidders for 2021 and 2023 before Christmas, with final winners announced in January 2020. While the judges evaluate competing bids, Hounslow will continue to promote its vision for 2021, working with partners and stakeholders to raise awareness and support across communities.
Cllr Samia Chaudhary, Cabinet Member for Leisure Services at Hounslow Council said it was a memorable day out for all concerned, "Bidding for the London Borough of Culture 2021 has occupied a huge part of my life these last few weeks, so it was absolutely fantastic to see all the different threads coming together on our wonderful journey to City Hall yesterday. The Route Master bus was packed full of local people; adults and children and it was obvious to see their huge enthusiasm for our bid to develop a year-long cultural programme and to set in train lots of investment and opportunity to really put Hounslow on the map.
"Finally, I must give a special thanks to the London Route Master Bus company who gave up their time and services for free to drive our delegation all the way to City Hall and back again in such an impactful and special way. It was lovely to see so many passers-by wave at us, take our photo and generally give us their best wishes too".
For more information on Hounslow's campaign, visit GoHounslow.com
October 30, 2019