'A dedicated professional who worked tirelessly for the borough and its residents'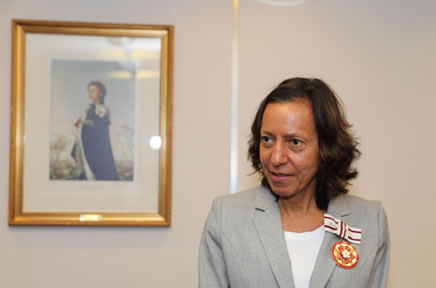 Tributes have been paid to the former Deputy Lieutenant of Hounslow, Maria Pedro, who died recently after a short illness.
Leader of Hounslow Council, Cllr Steve Curran, said: "On behalf of the council and residents of Hounslow, I would like to express our condolences to the family and friends of Maria Pedro, our former Deputy Lieutenant.

"Maria was an outstanding Deputy Lieutenant on behalf of Hounslow and worked tirelessly for the borough and residents, particularly for young people. Maria had a particular interest and skill in supporting young people right across the borough, as well as community groups, which resulted in many being nominated for, and subsequently receiving awards from Her Majesty The Queen.

"Her commitment to the borough was tremendous, and she will be greatly missed."
Chiswick Councillor John Todd said; "I am so sad to hear the news about Maria Pedro
"She was a consumate professional who diligently discharged her role with warmth and a desire to help and or support both residents and businesses in Hounslow.
"She was an outstanding support for our Children in care. With her we visited our children's homes and met other children too. Staff and residents really enjoyed her visits and interest in the diversity of activities.
"I am hugely appreciative of her commitment to this aspect of our role I will miss this lovely person and dedicated professional."

Maria was appointed in 2011 as Deputy Lieutenant for Greater London and in 2012, she was appointed as representative Deputy Lieutenant for the London Borough of Hounslow until she stepped down from her duties in June 2018.

The Mayor of Hounslow, Cllr Samia Chaudhary, added: "Since becoming the Deputy Lieutenant for Hounslow, Maria worked closely with all the borough's Mayors, always willing to give up her time to support council and other Civic events such as Armed Forces Day, the Services of Remembrance and many other community events and activities.

"Her passing is a great loss, and our thoughts and prayers are with her family and friends at this difficult time."

November 8, 2018