The Ten Piece Children's Choir wowed Albert Hall audience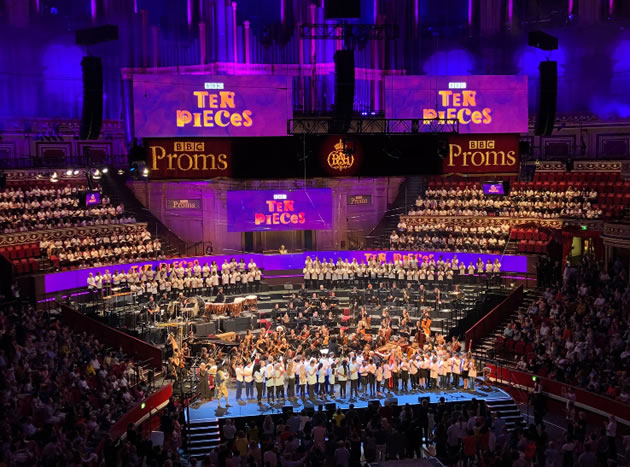 Seventy-three young singers from across Hounslow wowed the crowds at The Royal Albert Hall in two performances as part of this year's BBC Proms.
The young people from Hounslow joined hundreds of other young singers from across Greater London to form the Ten Pieces Children's Choir.
The singers came from two choirs led by Hounslow Music Service, Hounslow Youth Voices and HMS Junior Concert Choir and formed almost a quarter of the Ten Pieces Children Choir. They were joined by choirs from St Mark's Catholic School and Isleworth and Syon School. The Hounslow young singers were joined by the BBC Symphony Orchestra, BBC Singers, presenters and soloists.
The Ten Pieces programme invites children aged 7-14 from across the UK to develop their own response to ten pieces of music. The initiative is designed to inspire a generation of children to get creative with classical music.
Councillor Tom Bruce, Cabinet Member for Education, Children and Youth Services, Hounslow Council, said; "Hounslow Music Service is a much-loved local group which has achieved incredible success for over thirty years.
"It's extremely popular with parents, children and schools, and the number of those using the service has been increasing year on year.
"Events like this really help local young people to develop confidence and self-esteem, which allows them to reach their potential and as a council we are lucky to have such close relationships with our schools to support this goal, and this concert really showed how successful this has been.
"I am so proud of our children and young people who have continued to develop in musical education."
Sandra Campbell, Assistant Head of Hounslow Music Service, said;"We are so proud of the children from our borough who are taking part in this wonderful opportunity to sing in the world-famous BBC Proms. The concerts will create musical memories for a lifetime."
Hounslow Music Service provides instrumental and vocal lessons to learners of all ages and all abilities, both in and out of school time. In addition to these lessons they also offer a structured, progressive ensemble programme and organise performances and projects to complement pupils' learning. The tutors teach more than 12,000 pupils in Hounslow schools in supporting the delivery of music education across the borough.
In a typical year Hounslow Music Service will generate around 700 performances, involving more than 22,000 participants and perform to around 190,000 people.
Hounslow music service works with around 8,000 students every week, by nurturing talent and enabling students to develop their musical talents through a structured programme of bands and orchestras.
Hounslow's Music Service was established in 1980 to provide instrumental lessons for the borough's young people. The service has a team of more than 70 professional music tutors who teach more than 12,000 pupils in Hounslow schools. It runs a structured, progressive programme of bands, orchestras and choirs for pupils outside school and a Saturday Music School for more advanced pupils. They manage and maintain more than 8000 instruments to help ensure pupils have access to an instrument, and have a well-stocked music library.
Hounslow Music Service is officially recognised as a charitable company by the Charity Commission and Companies House, following a recommendation by Hounslow Council in 2015.
August 8, 2018