Joined company connected to Brentford stadium development after receiving £300,000
A payout of over £300,000 to a former employee of Hounslow Council has been described as unacceptable after it was revealed he has since joined a company connected with a major development which gained approval when he was working for the local authority.
Former head of Regeneration, Brendon Walsh has taken on a role with Be Living which is Brentford FC's development partner for its 20,000 seat stadium and 900 home development at Lionel Road. Willmott Dixon announced its rental arm, Be Living has appointed Mr. Walsh, as strategic consultant to help expand its private sale and build-to-rent portfolio in September.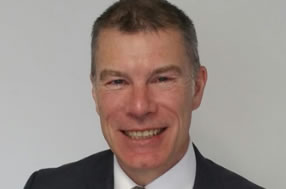 The appointment has attracted the attention of satirical magazine Private Eye, which has written a story about the severance payout approved for Mr. Walsh when he left the Council last July.
Mr. Walsh was awarded a £302,000 contractual severance payout when the position of Director of Regeneration, Economic development and the Environment was abolished last July. He had five years service in the job. He was a vocal supporter of Brentford Stadium development which received the approval of Hounslow Council despite criticisms of the scale and the density of the accompanying 'enabling' development of over 900 flats and the lack of any assurance that there would be any social housing included in the scheme.
Private Eye has published a story in its 'Rotten Boroughs' section under the headline 'That's Rich'. It refers to the 'golden goodbye' which was approved by Council on its meeting of 11 July and says that all the Labour councillors had been told to vote through the severance package without question. It comments, "Following public outrage at excessive public sector payoffs, the government has announced plans to cap them at £95,000. Before that becomes law it expects local authorities to exercise 'restraint'. That news clearly hasn't reached Hounslow."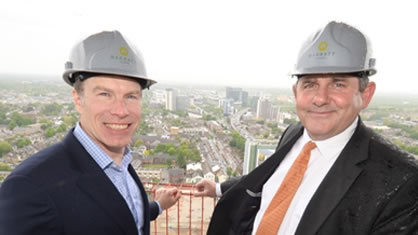 Pictured with Hounslow Council leader Steve Curran while Director of Regeneration
Councillor Steve Curran, Leader of Hounslow Council, said, "The post of Executive Director Regeneration, Economic Development & Environment was deleted earlier this year. This change to Hounslow Council's senior management generates a significant saving. The post holder received a payment as a result of being made redundant that was completely in accordance with Council policy and employment law. As with any such situation the details are confidential.

"Former employees are of course able to take on other roles after leaving the Council."
Willmott Dixon say of their new employee, "He has also been pivotal in commissioning master plans that have led to significant investment into the Golden Mile on the A4 and around Heathrow Airport.
"With over 12 years combined experience in Ealing and Hounslow, Brendon will add his know-how and experience at unlocking land opportunities and town centre master planning to support Be Living's land strategy as well as provide strategic counsel to support Be Living's work to achieve planning on a number of current developments."
Brendon Walsh says, "I'm proud of what I helped achieve at Hounslow in the last five years and feel this is the right time to accept a new challenge. This is a fantastic opportunity to play a part in Be Living's growth by unlocking the potential they have to deliver a significant quantity of homes."
November 6, 2017