As Hounslow Council ups its recycling target for residents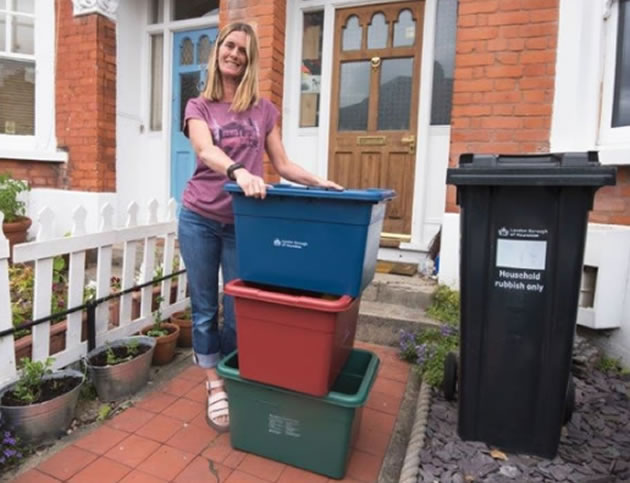 Black wheelie bin collections, for non-recyclable waste, will take place every fortnight from Monday 10 July for households in Zone A collection rounds and from Monday 17 July for those in Zone B collection rounds.

From this week, [ Monday 3 July], crews will be placing a bin hanger on black wheelie bins for residents in houses, confirming what collection zone they are in and the dates their black wheelie bin rubbish will be collected.
However the new system has caused some confusion and according to local people writing on our forum there have been teething problems, ranging from calendars not being delivered, to missed collection of food or garden waste, and one resident reported having to enlist help from a councillor to get the recycling boxes delivered.

Further detailed leaflets on the fortnightly collections has already been delivered to houses and reminds residents of what rubbish can be placed inside the black wheelie bin and what items should be put in recycling boxes.
More than 70,000 houses across Hounslow have now received their new red and blue recycling boxes and weekly recycling collections by the Recycle 360 crews have begun.

Residents have also received a recycling box net and a roll of 52 biodegradable food waste liners which were placed between the new red and blue recycling boxes. 5,080 properties will receive the bio bags by the end of the week.

Hounslow Council wants to up its recycling target so residents increase recycling on food waste, plastics, cans, paper, card and glass bottles. While 31 per cent of the borough's waste is recycled each year, £1.3 million a year in disposal costs could be saved if that recycling figure increased to 50 per cent, says Hounslow Council.

Councillor Amrit Mann, Deputy Leader of Hounslow Council said: "Together we can achieve the 50 per cent recycling target and as a result, all residents can enjoy a cleaner, greener borough."

Weekly recycling collection dates can be checked here

July 5, 2017