Mayor of Hounslow and Ruth Cadbury MP encourage residents to shop local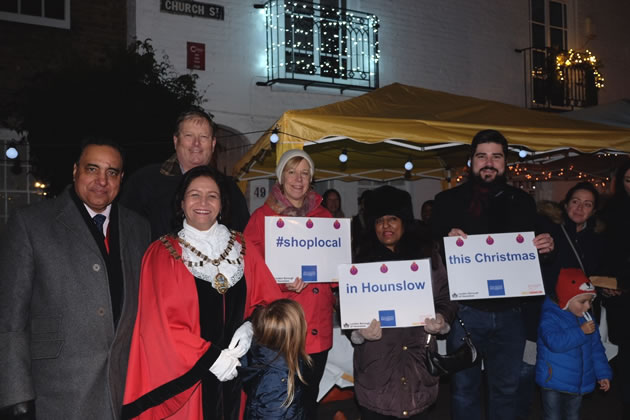 Mayor of Hounslow Cllr Ajmer Grewal, Hounslow Councillors,with Ruth Cadbury MP
Residents came out in force to support local traders on Small Business Saturday this weekend. The Mayor of Hounslow, Councillor Ajmer Grewal plus fellow councillors joined Brentford and Isleworth MP Ruth Cadbury on a shopping trip to encourage people to buy their Christmas gifts locally.
The first weekend in December is traditionally known as the busiest shopping day of the year with just under three weeks to go to Christmas Eve.
On Saturday, residents enjoyed a Christmas market at Isleworth, which included food and gift stalls. Father Christmas was on hand to see young residents and there was a chance to try some ice skating plus a host of other activities across the borough.

Small Business Saturday, an initiative that originated from the United States, is now held annually and it has once again seen the profiles of local businesses rise as residents and visitors visited independent shops and spent time in their local High Street as they hunted for Christmas gifts.
The event is also aimed at creating a more long-term boost for local businesses and the communities they are in and to encourage people to make use of their local traders and local shops throughout the year.
Councillor Ajmer Grewal, Mayor of Hounslow, said, "Not only is this good for trade in the run up to Christmas but also a chance to see just what our local traders have to offer all year round. Small Business Saturday is a great campaign but we encourage everyone as much as possible to shop on their doorstep whenever they can."
December 7, 2016