Council says their three-day stay at Gunnersbury will cost a five figure sum
Travellers who'd moved from Gunnersbury to Blondin Park in Ealing have moved on again.
The group left Gunnersbury Park on Wednesday evening (11th June) after Hounslow Council served a notice and closed the park for safety reasons.
Hounslow estimates that the cost of providing security, clean-up and legal fees for the duration will cost £18,000.
Local residents near Blondin Park in Ealing say the caravans appeared on Wednesday evening at around 9pm. Witnesses say they camped on the sports field.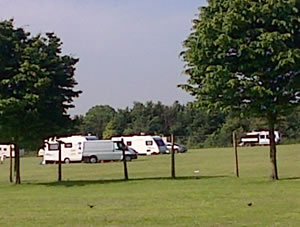 Caravans in Blondin Park on Friday morning
The group departed Blondin Park on Friday morning after legal action by Ealing Council. As a precaution the Council have decided to keep the central area of the park closed over the weekend so that they can carry out a thorough inspection and clean.
A council spokesperson said: "The group gained access to the park on Wednesday evening by breaking the lock on the gate. We have not yet assessed the cost of clearing rubbish or repairing damage caused by the group."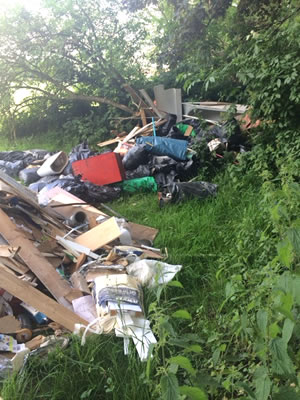 Rubbish left in Blondin Park (pic: Julian Bell)
Council leader Julian Bell tweeted, "The speed with which we moved the travellers off Blondin meant they had less time to trash it but they still left 2/3 lorry loads of rubbish."
Northfields Councillor, David Millican, says he, along with his newly elected colleague, Theresa Mullins, met local residents and police. He says the travellers told police that they would only be there a few days.
He says: ''Ealing Council have served Section 77 Criminal Justice and Public Order Act 1994 notices to the travellers this afternoon (Thursday 12th) requiring them to leave within 24 hours. In addition the council have undertaken welfare checks on the travellers and their children, which the council are required to do.''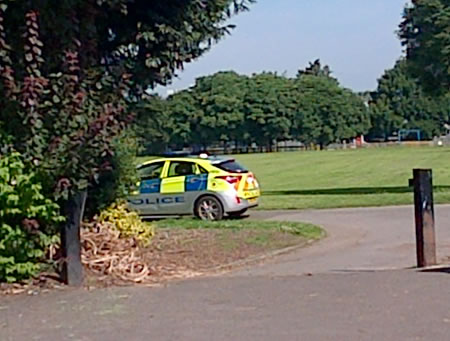 Police presence at Blondin Park
Earlier, Hounslow Council shut Gunnersbury Park 'in the interests of public safety.' Park users had been horrified by rubbish that accumulated near the site.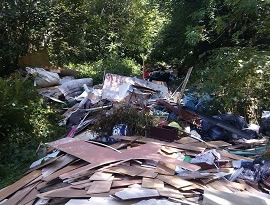 Tom Jenkins from Ealing - who took the photos of the rubbish said: ''They obviously drove down the middle road from the car park and across the cricket pitch.
''They left tracks across the pitch and are leaving rubbish strewn across the field and driving their cars and vans in and out through the south east gate, across the footpath and field with little or no concern for the people walking in the park. A school sports day planned for today has been cancelled as a result. Added to this, in little over 24 hours the beautiful bluebell footpath has become a tip for several tons of building waste. This looks like at least 6 truck loads of rubble.''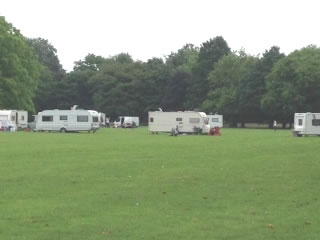 Caravans in Gunnersbury Park
Maggi Marmion who regularly walks her dogs in Gunnersbury said: ''It is really bad there - the rubbish piles are getting bigger and unfortunately there is human excrement there too! One of my dogs came back from sniffing around the rubbish covered in it!
''I walked past their 'camp' yesterday with a few fellow dog walkers and a car with two young guys in it came speeding across the field at 30+ miles per hour! I told them to slow down and just got abuse back! They nearly hit one of the little dogs! I must say it is very upsetting to see this destruction they make to our beautiful park.''
An Ealing council spokeswoman said: "We are reviewing access at our parks and open spaces but we would also ask residents to help us protect these sites by calling the council on 020 8825 5000 or the police on 101 if they see anything suspicious."
June 12, 2014