Charity London Calling thanks residents for helping those in need
In November, Hammersmith & Fulham residents were asked to keep people warm this winter by donating old coats for those in need - and a record number responded.

Hammersmith Town Hall says it collected 105 coats for London-wide charity Calling London over the past two months and has distributed them to Hammersmith & Fulham Foodbank, St Mungos and other organisations which gave the coats out to people in need.

" Once again, Hammersmith & Fulham residents have shown how generous they are when asked to aid people in need," said Cllr Sue Fennimore, Cabinet Member for Social Inclusion.
"Calling London makes a real difference to people's lives and we're delighted we could help them keep people warm this winter."

As well as H&F's record donation, the charity also saw the biggest London-wide collection since it was founded in 2011 with a total of 2,800 coats. The charity has no funding and relies on the goodwill of everyone involved to collect, sort and distribute the coats.

Founder Frances Manthos said she was delighted by residents' generosity.

"Thank you so much for taking the trouble to come to Hammersmith Town Hall to drop off your coats," she said.

" Every coat has been given to someone who otherwise wouldn't have one. It makes a world of difference."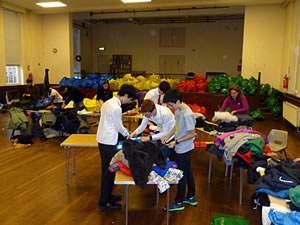 Coats being sorted at Hammersmith Town Hall
January 8, 2016