For essential repairs ahead of major refurbishment set for 2018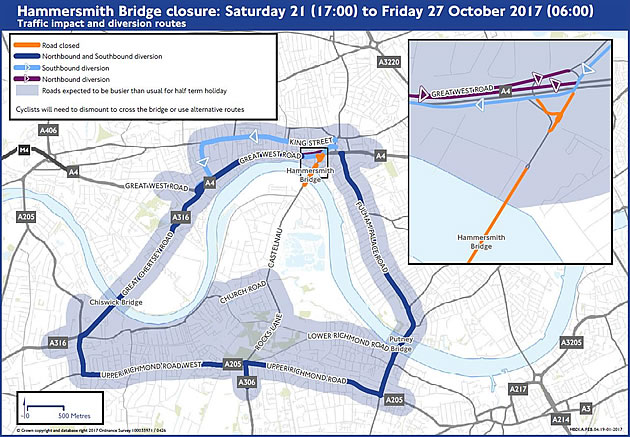 Hammersmith Bridge is set to be closed to traffic during October half-term - from 21 to 27 October - to allow essential repair works to take place.
Hammersmith & Fulham Council says it is also working closely with Transport for London in order to finalise plans for major repairs to the bridge in 2018.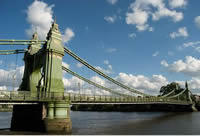 Regular council safety checks to the bridge have revealed that some essential repairs are needed to the decking to keep it operating until then and this month's works are aimed at protecting it and making sure that it can continue to be used until next year's major repairs.
As a result, the 130 year-old bridge will close to traffic from 5pm on Saturday 21 October until early morning on Sunday 29 October, but will remain in use for pedestrians. The school half-term period has been chosen to reduce the level of disruption and inconvenience as much as possible.
Motorists will be diverted via Chiswick Bridge and Putney Bridge. Both footways will remain open to pedestrians and cyclists, who will have to dismount to cross, and both walkers and cyclists as asked to please take care when crossing as it may be busier than usual.
The following bus services will terminate in Castelnau, Barnes: 33, 209, 485. While the 419 will terminate in Lonsdale Road, Barnes. Passengers can walk across the bridge to resume their journeys. For those less mobile, some 72 bus services will be diverted via Chiswick Bridge, the remainder will terminate ahead before Hammersmith Bridge – please check before travelling. You can get the latest bus information from Transport for London at TfL Buses or follow @TfLBusAlerts on Twitter.
"The safety of everyone using our historic bridge is our priority and regrettably these urgent repairs are essential to keeping the bridge safe and operational ahead of the major refurbishment work," Cllr Wesley Harcourt, H&F Cabinet Member for Environment, Transport and Residents' Services.
"We're doing these works during half-term to minimise disruption to our residents, but appreciate that some people will still be affected. We want to give residents as much notice as possible to make alternative travel arrangements, or anticipate any delays."
Hammersmith Bridge is currently operating under severe weight restrictions with only one bus in each direction permitted on the bridge at any one time. This essential maintenance work is crucial to ensuring this very old bridge can continue to operate effectively in the future.
To comment on the repair works, contact H&F Council's transport team at bridgeproject@lbhf.gov.uk.
To find out more about the full refurbishment, visit H&F Council's page on Hammersmith Bridge repairs.
October 10, 2017