Trains will double in frequency from December 2009, say London Underground
The new look Circle Line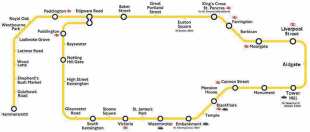 Participate
Comment on this story on the Forum
Register to receive a free Shepherd's Bush newsletter
By the end of the year, Hammersmith residents have been promised more frequent trains into central London, as the Circle line is extended to Hammersmith.
The new-look Circle line, which some are dubbing the 'Lasso line', will run on the Hammersmith & City line from Hammersmith to Edgware Road from December 2009.
At Edgware Road it will join the current Circle line and terminate. It will then reverse and do the full circle anti-clockwise, returning to Hammersmith.
The aim is to "increase reliability and capacity" on the District, Hammersmith & City and Metropolitan lines that the Circle Line shares tracks with.
The Circle, first completed in 1894, has always run without a fixed starting point, and links most of London's national rail terminals.
The new stops will double the number of trains betwen Edgware Road and Hammersmith—but will also mean passengers who stay on the train between South Kensington and Baker Street on the present loop will have to change at Edgware Road.
The changes will almost double the frequency of trains between Hammersmith and Edgware Road, providing extra services to and from the recently opened Wood Lane Tube station and Westfield shopping centre.
Howard Collins, chief operating officer of London Underground, said: "The changes to service patterns on the Circle line will come into effect in December 2009 and will improve the reliability of the line, enabling services to recover more quickly if there is disruption. It will still be called the Circle line and shown as a circle on the Tube map but with the additional extended service out to Hammersmith.
The introduction of spiral trains is the first phase of the Tube sub surface lines upgrade, which will provide a new fleet of air-conditioned and accessible trains and a new signalling system. The first of the new trains - which will run on all four sub-surface lines - will be delivered for testing in 2009 and start serving the Metropolitan line from 2010, the Circle and Hammersmith and City lines from 2011 and the District from 2013.
5 March, 2009