Penny Flood reviews a play with hidden depths at The Tabard Theatre
A triptych of challenging stories with hidden depths gets its first London airing after Royal Court premiere.
This is a psychological mystery play; three scenes looking at three couples at the point of big changes in their lives. The three are loosely connected with a subtle central thread, and a rather unpleasant squaring of the circle at the end. There's Freida (Jennifer Hanah) and her foster son Harry (Tom Holloway); adulterers Lisa (Selina Giles) and Mark (Christien Anholt); and strangers Sian (Marie-Francoise Wolff) and Jonathan (Mark Griffin). Each scene harbours its own mystery, darker and more complex than the one before.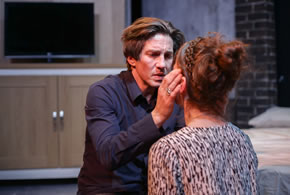 Image- Andreas Grieger
Why is Frieda so sure she'll never see her foster son again? He's going to Canada not the moon, and what happened in the past to make him want to leave home? There are some very touching moments between the disagreements. As for Lisa and Mark in their airport hotel room, is Lisa a policewoman, porn star or pathological liar? And how did they hook up in the first place? Anholt gives a very funny performance as a man about to miss out on his anticipated afternoon delight. And finally, in the most frightening scene of all, what is creepy Jonathan doing with the sadistic, psychopath trafficker Sian, and who is on the other side of the door?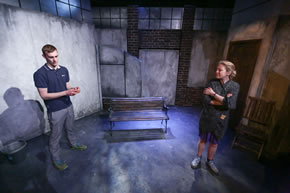 Image- Andreas Grieger

It's got a great pedigree, having been written by the award winning Simon Stephens, and premiering at the Royal Court. Stephens also wrote the smashing Bluebird which played at the Tabard last year. Like Bluebird, this isn't about what's happening on the surface, entertaining as it is, the real story is about what's bubbling beneath. But unlike Bluebird, Stephens doesn't offer any answers here, just a set of clues, the audience has to search for their own answers.
It's not an easy watch, it's not meant to be, it's one for people who like their drama to be challenging.
But, as entertaining and engaging as it is, for me, there's something vaguely unsatisfactory about it. The loose connections are a bit too loose, if there is a central point to the story, it gets lost in the telling. I just felt it called for some tightening of the common thread to pull them all together a little bit.
But that aside, it's clever, classy and well directed with a terrific team of actors. Incidentally, the actors change roles from time to time so when you go and see it the cast may not be the ones I mentioned here.

Wastwater
4 May - 4 June 2016
Tuesday - Saturday @ 7:30pm

Tickets £17/£15

BOOK NOW

Tabard Theatre
2 Bath Road
Chiswick
W4 1LW
Enquiries: 0208 995 6035
admin@tabardtheatre.co.uk

Penny Flood