Brook Green's British brasserie Mustard, launched by the owners of Joe Allen in Covent Garden in 2016, is being relaunched in November as Provencal inspired French bistro Le Petit Citron.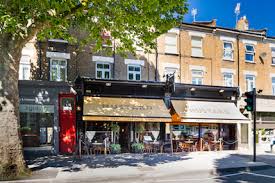 Lawrence Hartley and Tim Healy already ran three restaurants around the capital, including the famous Joe Allen restaurant which they bought in 2012, and its sister restaurant Orso.
Lawrence has now joined forces with his wife Emily to create a new concept inspired by 'long summers spent with family in the French countryside'.
Le Petit Citron promises a menu of classic hearty French fare such as Onglet steak frites with a pastis, garlic and herb butter and also Lemon and garlic poussin with French beans, persillade and pine nuts.
For pescatarians, options will include tuna carpaccio Niçoise and Rustic Mediterranean fish soup with gruyère and rouille.
There's going to be a weekend brunch menu, featuring plenty of pastries, plus waffles with maple syrup and cinnamon sugar, juices, and coffee.
On the drinks side, classic french aperitifs will be the focus, including Lillet martinis, cassis and lavender gin and tonics, and Kir Framboise.
If you are a fan of Mustard, you have a last chance to visit until the end of October. After that it will closed for a revamp before relaunching as Le Petit Citron on 9 November..
The site, at 98 -100 Shepherd's Bush Road has retained some of its original features, dating back to Victorian times when it was home London grocery chain David Greig.
October 26, 2018