'Nordic-mystical forest dining scene' being created on top of BBC car park
Pergola on the Rooftop, the Shepherd's Bush on the roof of the former BBC Television Centre's multi-storey car park, has closed for autumn -but is reopening on exactly a month from today..
It is returning as Pergola on the Roof Winter on November 3, and staying open till December 23. And if you think it might get chilly on a rooftop in December, Feast, the company which runs the restaurant, say they have the solution.
On the website, they say: "How are we making our rooftop British winter weather proof? We'll be fully covered by a dome, that's heated, wind proof, water proof and snow proof – you name it, we've proofed it! Our tree walkways into the Pergola will be covered too, so from the minute you arrive outside the building you are warm and dry!

"Winter is Coming…And So Are We…. Pergola On The Roof is coming back! 92,000 of you entered our Mediterranean haven, surpassing all expectations of how much you would love our sunny pergola.

"So…. This winter we're back, with a bang! Opening on November 3rd we're transporting you into a Nordic-mystical forest dining scene, set 100-feet-high under a canopy of holly, ivy, and winter flowers and filled with some of London's finest restaurants.

"Pergola on the Roof will be a piece of wintry escapism – a rooftop eatery, covered by a low level wooden structure wrapped in forestry foliage, set against burgundy walls and paved with woody bark. Think silver birch trees, low level lighting, blankets, cedar wood, oaky scents and candle light.

"Same rules apply as the summer, 600 seats, 4 restaurants, 2 bars, 5 day beds, and a whole heap of fun! "
It is joining Shepherd's Bush's other pop-up restaurant, Little Feast in Goldhawk, also reopening for winter in November.
This summer, Little Feast offered seating for 240 people, both indoor and out, along with an Arch Bar, music and six kitchens offering street food from around the world.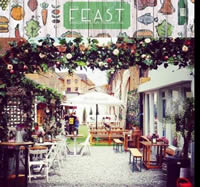 After extending its opening dates, it finally closed on September 11. However on its website, Feast says: " Little Feast is currently closed, but don't panic! We're just having a little seasonal makeover, coming back with a vengeance as 'Little Feast Winter' in early November.
"Stay tuned to Twitter @WeFeastLondon for more details."


September 19, 2016