On 40th anniversary of his shooting in West Kensington
The Metropolitan Police Service have held a memorial service in honour of Stephen Tibble, a police officer who lost his life in 1975 as he attempted to detain a terrorist suspect.
The Commissioner, Sir Bernard Hogan-Howe, joined police officers as well as the family and friends of Police Constable Stephen Tibble, QPM, to mark the 40th anniversary of his death.
The Commissioner opened the service with a unique tribute to PC Tibble and fellow fallen officers across the Met. He was followed by Senior Chaplin Jonathon Osborn who led the service near the plaque on Charleville Road in Barons Court, Hammersmith, where PC Tibble was fatally shot.
The Commissioner said: "The anniversary of PC Tibble's murder will always remain a very sad day for the Metropolitan Police and a tragic event in policing history.
"Even though he was off duty, he saw an incident where the lives of Londoners were at risk, and in trying to protect them, he made the ultimate sacrifice. He tried to stop a criminal running away from the police. Only 21 years old, he was shot dead in cold blood. Today Met Officers take the same risks on behalf of the community. Today we remember Stephen's courage and sacrifice.
"For families and loved ones, he is remembered every day. Through this Service of Remembrance, we will ensure that his memory lives on within the Metropolitan Police."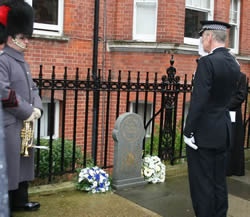 On 26 February 1975, plain-clothed police officers were carrying out burglary patrols in the area of Fairholme Road, Hammersmith. One of the officers noticed a man acting suspiciously outside an address and approached him, introducing himself as a police officer.
The man stopped was Liam Quinn, a volunteer in the Provisional Irish Republican Army (IRA).
Whilst speaking to the officer, Quinn suddenly fled and officers started to chase him on foot.
PC Tibble, who was off-duty at the time and on his motorbike, saw what was happening and gave chase. He rode past the pursuing officers and Quinn, then pulled to a stop at the junction of Charleville Road and Gledstanes Road. He got off his bike and tried to stop Quinn, unaware that he was armed. Quinn then pulled a gun out and shot PC Tibble three times in the chest at point-blank range.
PC Tibble died three hours later in hospital. He was 21, married and had been a serving officer for only six months.
Another officer involved in the chase continued to pursue Quinn by getting on PC Tibble's motorbike but couldn't track him.
Officers later attended the flat in Fairholme Road that Quinn had been seen entering and discovered it was a bomb factory. They also found an automatic pistol and ammunition as well as English and Irish money, wigs and a letter addressed to another IRA volunteer. The discovery of this address led to the arrest of a number of other IRA volunteers.
Quinn managed to evade capture and later escaped to Dublin. His extradition to the UK was refused by the Irish courts. In 1981 he was arrested by the FBI as he tried entering California but it was not until 1988 that he was successfully extradited to England.
In February 1988 Quinn was tried and found guilty of murder. He was sentenced to life imprisonment with a recommended minimum sentence of 30 years.
Hammersmith and Fulham Borough Commander Chief Superintendent Gideon Springer said: "It was a real honour to meet the family of PC Tibble, a heroic officer who demonstrated the ultimate act of bravery and dedication all those years ago.
"Having read what happened on that sad day, it is quite remarkable that officers, who saw a colleague being shot, continued to chase the suspect without fear for their own lives fully knowing that Quinn was now armed.
"This is something that has not changed to this day and police officers continue to put their lives at risk on a daily basis to protect Londoners and people across the country."
On 17 June 1976, PC Tibble was posthumously awarded the Queen's Police Medal for gallantry.
The memorial plaque for PC Tibble was erected in 1992 at the spot where he was killed on Charleville Road in Barons Court.
February 27, 2015