David Miliband takes questions on Palestine, Afghanistan and Hammersmith
It was not clear whether Foreign Secretary David Miliband was in Hammersmith last Friday (February 19) to give a boost to a marginal seat or whether the public meeting at St. Paul's Church was the first stage of a 'leadership tour', ahead of a contest for the Labour Party's top job. Either way, in a lengthy introduction, Miliband pointed to Labour's record over the past 13 years - "We are a fairer and richer country" - and added a fair amount of negative campaigning into the mix - "The Tories have changed their rhetoric but not their policies".
However, it was questions on British foreign policy in the Middle East that dominated the evening, despite attempts to encourage people to bring up different issues. The Foreign Secretary was repeatedly asked to justify the Government's relationship with Israel, starting with a question on whether he was planning to challenge Israeli Foreign Minister Avigdor Lieberman over the fraudulent use of British passports by a hit squad which killed a Hamas member in Dubai – a murder that has been widely blamed on Israel's spy agency, Mossad. Miliband said he would reiterate the British Government's "outrage" over the case. "We expect the Israeli government to cooperate with the investigation. But it's important to build the case before we make accusations," he said.
He was also accused of "protecting Israeli ministers", referring to an incident in December when an arrest warrant was issued for former Israeli Foreign Minister, Tzipi Livni, over crimes allegedly committed during Israel's offensive in Gaza last year. Miliband criticised the arrest warrant at the time and promised legislative changes to ensure there was no repeat performance. However, responding to the accusation on Friday, he denied that any such changes were being planned: "We are not changing the legal system to protect anybody, we are not going to change the standard of proof on war criminals. There's an anomaly in the British system that doesn't make sense: you can be arrested for war crimes but you cannot be prosecuted. Britain will not be a safer place for war criminals. The Prime Minister and I were one of the first to call for a ceasefire over Gaza," he said.
Other members of the audience wanted to know why Britain was "selling arms to Israel" and whether Britain should withdraw favourable trade agreements with the Jewish state "until Israel complies with international conventions" - questions that both won applause. On the arms sales issue, Miliband said: "The EU has the toughest arms exports rules in the world and we honour them. We never sell arms where we believe they are used for repression," he said to jeers from the audience. On the trade issue, Miliband was less specific, saying: "We also have EU-Palestine trade agreements."
Ultimately, he said he wanted to keep lines of communication open with Israel: "I don't agree with Iran but I want to talk to them. The same applies to Israel - I think it's right that we talk to them. If we talked to Hamas, that would defy every country in the Arab League. Egypt has been nominated by the Arab League to do this."
Shepherd's Bush MP Andy Slaughter, who visited Gaza in the immediate aftermath of the Israeli offensive, as part of the Britain-Palestine All-Party Parliamentary Group, said he was heading back there in a couple of weeks' time. "I am going to see what has changed, but I suspect not very much has," he said.
Miliband also came under fire over other foreign policy issues, specifically Britain's role in Afghanistan. "How can you say the war has been a success?" demanded one member of the audience, particularly referring to the fate of Afghan women. "You can't say the position of women has not improved," said Miliband. "Girls weren't allowed to got to school under the Taleban. Let's not pretend Afghanistan is going to be like Hammersmith – it's not. But you can't say the situation there hasn't improved. If the troops weren't there, the insurgency would take over. Don't believe the Taleban insurgency is representative of the people of Afghanistan," he said.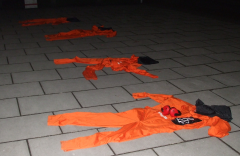 Outside the church, a handful of protesters kept up a noisy demonstration, mainly calling for the release of a Guantanamo Bay inmate. Inside, audience members challenged the Foreign Secretary directly over what the British Government was doing about the continued detention there of the last British resident, Shaker Aamer. Aamer has been held at the US-run camp since 2001, despite never having been charged with an offence, amid allegations he was tortured by the U.S. with the complicity of MI5. "There were nine British citizens there and five British residents," said Miliband. "We have made consular visits and representations over all of them and representations are still going on in respect of Shaker Aamer. We are arguing that he should be released. If it hadn't been for the British government, (former detainee) Binyam Mohamed would still be in Guantanamo. We have a government in the U.S. now which wants to close Guantanamo – that makes it easier," he said.
The Foreign Office was recently forced to publish classified documents which showed MI5 knew British resident Binyam Mohamed had been tortured at the behest of the U.S. - documents that Miliband himself had tried to suppress, arguing their disclosure would damage relations with America.
"I am voting Labour in spite of your policies, not because of them," said an unimpressed voter from the Stop The War Coalition. "You are not New Labour, you are Old Tory."
On the home front, several local residents wanted clarity over the future of their housing estates, amid claims that Hammersmith and Fulham Council want to demolish them and redevelop the areas where they currently stand, reducing the amount of social housing – a claim the council denies. One Queen Caroline resident asked almost despairingly: "Are they knocking it down or aren't they?" Before the public meeting Miliband had been on a tour of the Queen Caroline estate. "I heard a huge amount of pride from residents and a huge amount of anger at being described as a 'ghetto'," he said, referring to Council Leader Stephen Greenhalgh's comment on council estates being "ghettoes of deprivation". He said residents were likely to follow other estates in the borough in their bid to break away from council control and become resident-controlled associations: "If West Kensington are successful, residents of Queen Caroline want to do the same," said Miliband.
On the issue of care for the elderly, Miliband talked about the 'Russian roulette of Alzheimer's', and how those in need might be taken care of in the future: "It's not going to be solved by government alone, it's not going to be paid for by government alone. It's going to be a big area where we're going to have to spend money as a country," he said. On other topics, he said he supported the 50% tax on bankers, emphasised his pro-European stance and said he would defend the role of universal services "to my dying day".

The Foreign Secretary also answered questions on Britain's relationship with Ethiopia, the stockpiling of nuclear weapons, the benefits system, what the Government was doing to help recent immigrants learn English, how to restore public trust in the political system and what the Government could do to help people who had aspirations but had not grown up with privilege.
Yasmine Estaphanos
February 21, 2010