Route from Chiswick Mall to Putney Bridge reserved for walkers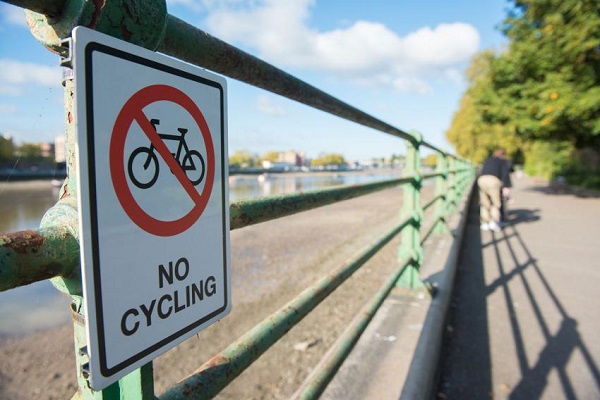 The Thames path from Putney Bridge to Chiswick Mall is being closed to cyclists and runners between 10am and 6pm throughout this Easter weekend, from Friday till Monday.
H&F Council says, "This is in order to enforce vital social distancing laws - to help protect our NHS and save lives - and allow walkers to take their daily exercise safely.

" If you are a cyclist or runner, and your journey is essential, please seek alternative routes.
"Walkers, please note that, under new social distancing rules due to the coronavirus pandemic, groups of three or more are prohibited, except for family members.

"Thank you for your cooperation."

Hammersmith & Fulham Council, in co-ordination with the police, says it will enforce the closure for cyclists and runners on the path from Chiswick Mall in the north of the borough to Putney Bridge in the south.
Cyclists and runners will be asked to use alternative routes and the measure will be backed up by police and warden patrols. The passage by the historic Dove pub will also be closed to all.
On Hammersmith Bridge a queuing system is also being temporarily introduced to avoid people overtaking each other and to ensure the two metre rule is enforced. Marshalls will be in place to explain the procedure to bridge users.
It is not clear at this point whether a ban is being enforced by Wandsworth and Richmond Councils on the south bank of the river. We have asked them for comment.
Cllr Wesley Harcourt, Cabinet Member for the Environment, said: "We want everyone to enjoy the long weekend in the safest possible way. Stay home, Protect the NHS, Save Lives."
Though the borough's parks remain open this long weekend, Hammersmith & Fulham Police are encouraging people to stay home, tweeting @MPSHammFul: " We know the weather is nice and its very tempting to go to the park, but please don't. We all need to work together to stop the spread. We are deploying officers to parks and open spaces to enforce the law."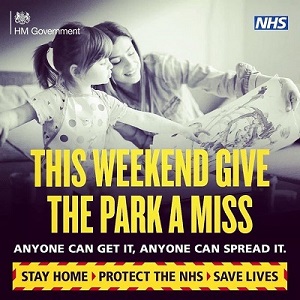 The police reinforced their message with this NHS poster.
The parks were initially closed in March by Hammersmith & Fulham Council, but were then reopened "on a trial basis" after the council carried out what it calls "a highly-visible public information campaign" with posters reminding people to stay safe, and social distancing rules will be enforced.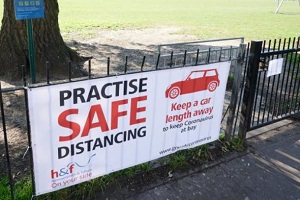 April 10, 2020