'Botanical bolthole' will include three restaurants and bar with stunning city views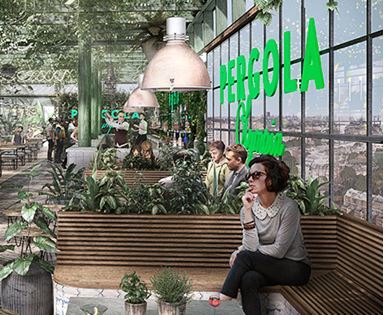 A huge new rooftop Pergola, with three restaurants and a bar in garden surroundings with views of the surrounding skyline opens at Olympia London on 27 September.
Pergola Olympia London is the first permanent site to be launched by the Incipio Group, which has already had success with the first Pergola on the Roof on top of the BBC car park in Wood Lane and the second, stlll open in Paddington.

The group is also behind the Feat Canteen in Kings Mall, the Feast Bar & Kitchen in White City and The Prince in West Brompton.
The new Pergola Olympia London, described as a 'botanical bolthole' will be on the fifth level of the venue's car park, and with floor to ceiling windows offering amazing views of the city skyline.
It will have seating for for 500 people and with a glass roof and heating, making be weatherproof and open all year round.
Incipio says: "We've taken inspiration from our flagship concept Pergola on the Roof and combined a new botanical look and feel, mixing overgrown ivy and botanical planters with a modern interior of exposed brickwork and rustic furniture.
"We've seating for 500 diners,9 giant day beds, 3 self-service restaurants, 1 bountifully-stocked bar, floor to ceiling glass walls, heating for those winter months and one fully protecting roof.
"Open day and night over the weekend and evenings during the week, there's no better place to devour a tasty lunch or dinner – EAT ON or OFF SITE, enjoy a delicious date night, or settle down for an all-day Saturday session with friends
"Just like Pergola on the Roof we'll be offering you all the 'Perks of Pergs' wrapped up in a botanical haven and under our iconic pergola.
"Joining us on the roof are the legendary Patty and Bun of course and new kids on the Pergola block Claw & Passo."

You can read more about thse three restaurants - offering a choice of burgers, pizzas and crab and lobster rolls - on the Pergola website, where you can now also make a booking. Booking re accepted for any number of people, up to 199 but people are also welcome to turn up on the day. Children are welcomed at the venue until 5pm.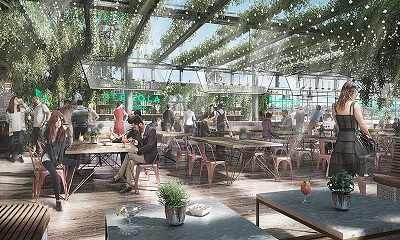 Pergola's arrival follows the unveilling of plans by Olympia's owners, Yoo Capital and Deutsche Finance for a spectacular £700 million transformation of the Hammersmith venue.
The plans, designed by Heatherwick Studio, in collaboration with SPPARC Architects, envisage adding two new boutique hotels, co-working spaces and restaurants, including pop-ups and organic eateries, plus new cinemas, live entertainment in 1,500 seat theatre, community spaces and open green areas, while modernising its two main halls to maintain and enhance its programme of events.
The exhibition centre was sold to the consortium by Earls Court developer Capco in the spring of 2017 for £296 million.
Olympia, which first opened its doors in 1886, is currently host to 1.6 million visitors at both trade and consumer shows and exhibitions, but the owners say they are hoping to transform it into a "year-round destination in its own right."
The plans include a botanic garden, pictured below and the owners say: "As a London landmark, we will give back to the city offering increased green spaces throughout our 14 acre site. Our vision is to open public spaces that can be enjoyed by the public and local communities, helping to make London a greater and greener city."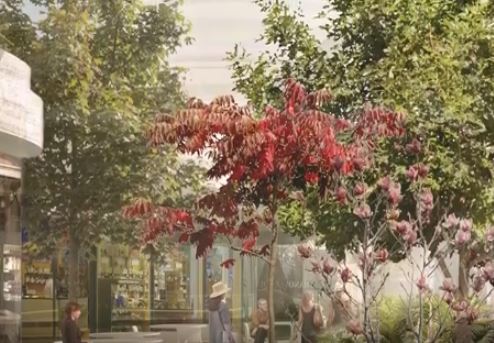 John Hitchcox, chairman of Yoo Capital, says: "As caretakers of Olympia London, we are investing to protect this iconic site and promote it on the global stage as a world-leading destination for the creative industries.
" These proposals reflect consultations and discussions with our community to ensure we create an exciting and inspirational venue with unparalleled facilities."
Olympia London is carrying out an ongoing public consultation over its plans with more exhibitions planned in the coming weeks. For further information email olympia@connectpa.co.uk or call 020 7592 9592.
For further details of the new plans, visit Olympia London Future and Olympia London Share the Future.
July 5, 2018