Chair of H&F Commission on Airport Expansion says plan is undeliverable


The chair of the Independent Hammersmith & Fulham Commission on Airport Expansion has responded to MPs' approval of proposals for a third runway at Heathrow.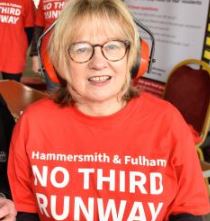 Christina Smyth, pictured above, said: "It's disappointing that many MPs failed to recognise that the third runway is not viable.
"But the battle is not over and I believe that, over time, it will become evident that the third runway is undeliverable."

Local opposition to the third runway is growing, with H&F Council vowing to keep fighting and Chelsea and Fulham MP Greg Hands stepping down from the Government over the plans.
Christina added: " The next major hurdle for Heathrow is the joint legal action of various councils and the Mayor of London, which will be triggered soon. It's fantastic that Hammersmith & Fulham Council is joining this legal action to protect residents' health and wellbeing.
"And let's remember history: In 2010, six local authorities took the Government to court about the third runway decision made by the Government in 2003 and confirmed by them in 2009. The court decided that the third runway could not go ahead."
The Independent Hammersmith & Fulham Commission on Airport Expansion is a resident-led group set up by the council in 2014, to explore the potential effects of airport expansion on local residents.
The commission's findings, which were fed back to the Government's Airports Commission as part of its 2015 report, were that the negatives would outweigh any benefits to H&F residents.
You can read the full report here.
July 6, 2018