A revival of Philip King's 1970 curio proves only that its time is up, says Bill Hagerty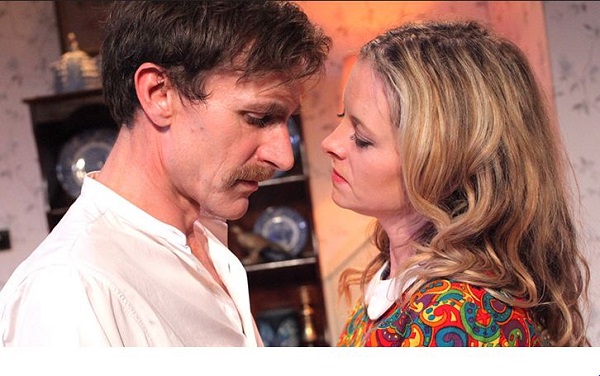 Photos by Phil Gammon
The late Philip King's last play enjoyed a national tour but never made it into London. I can't say I'm surprised.
King was a farce master, having had hits with such rib-ticklers as See How They Run and Sailor Beware!
Straying from his natural metier, he here produced a woolly tale of filial discord, loneliness and longing with a few decent gags but a whole of angst.
The Salvation Army's role in the plot is sporadic and the title doesn't fit the action – the young salvationist at the centre of the plot toots a cornet – so it is tempting to dismiss it as more Aunt Sally than Sally Army. But that would be unfair: the cast do their very best to drive the piece through its two-and-a-half hours – even with two intervals it seems stretched beyond reason – and succeed until the last hour or so.
Earlier in the proceedings its plausibility can often be questioned, but the final act and a bit is when the author's grasp on his premise fails him, and therefore his audience.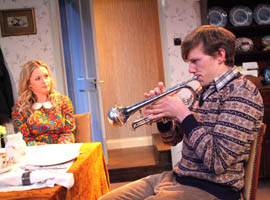 The story tells how19-year-old David, the trainee cornetist in the local SA band, has barely time to get home from his mother's funeral before his errant father is through the front door and making himself at home in the parlour of a humble house in an unnamed Lancashire town.
Dad Tom (John Sackville) deserted David and his Salvationist mother years ago and David loathes him. David's already extremely fragile, a condition indicated by Sebastian Carver, boldly making his professional stage debut, with a range of facial torment that gets close to gurning. When required to laugh, he's fine; otherwise it is as if he's just caught his nose in the mangle.
Tom having cleared off back to Nottingham, David settles into a disciplined but lonely life, so advertises for a lodger. Enter Bess Jones, an attractive, personality-packed barmaid at a local boozer, to whom he takes instantly – no wonder, seeing that Mia Austen plays her excellently as a flirty thirty-something with a heart of gold.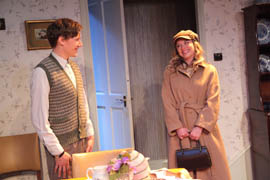 Dad's return wrecks their cosy cohabitation – no hanky-panky, as David emphasises to kindly Sally Army Major Webber (Patience Tomlinson) – for Tom is a rotter modelled on villains from the silent movie era. The moustache he wears may be seventies-style, but that doesn't prevent one expecting him to give it a twirl or two to display just how dastardly he is.
And here's the thing: not only does Tom almost coerce Bess her into letting him have his evil way before anyone can even say, 'Have you met Miss Jones?, but David is equally swiftly sweet-talked by this obvious, oilier than Castrol conman into agreeing that he should be allowed to stay.
With female emancipation proceeding apace back in the 1970s, the caricature of a barmaid as a sex-hungry slut would not have escaped criticism. Today it is unacceptable.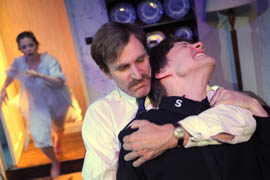 It all ends in tears, of course, which is especially rotten for David as he's been crying a lot already. Bess's attempt to pacify him after giving in to a scoundrel intent on establishing dominance over the young man whose life he has wrecked once before is uncomfortably implausible.
Tricia Thorns directs with conviction, which couldn't have been easy, and laces some familiar hit songs of the period into the narrative. I really enjoyed the music.
Go Bang Your Tambourine plays until 31 August. For tickets, call the box office on 01223 357851 or find out more and book online at Finborough Theatre.
August 13, 2019