PM chooses well known local company to kick off campaign
The day after announcing May 6 as the date of the General Election, Prime Minister Gordon Brown kicked off his election campaign with a Wednesday morning visit to Innocent Drinks on the Goldhawk Road Industrial Estate.
Mr Brown was accompanied by his wife Sarah, Labour Party deputy leader Harriet Harman and Andy Slaughter, current MP for Shepherd's Bush and Labour candidate in the brand new constituency of Hammersmith.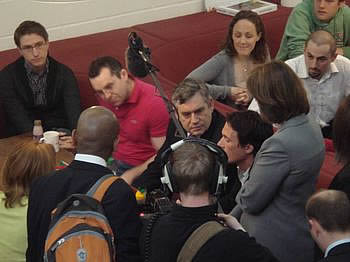 Innocent Drinks, which employs 200 people at the premises it calls Fruit Towers, is one of the area's best known and most distinctive businesses.
Ironically though, after building up its business on the estate for ten years, Innocent is set to move out of the borough this year to new premises at Portobello Dock in Ladbroke Grove.
Last September, Hammersmith and Fulham Council approved plans to demolish the industrial estate and replace it with new homes and commercial units, despite very vocal opposition from local residents.
The planning application has since been called in by the Secretary of State for Communities and Local Government, making it unclear whether the scheme, dubbed the 'Goldhawk Block', will go ahead or not. Faced with this uncertainty, the company decided to move to new premises.
During his time at Innocent, which he described as a "great business" Mr Brown talked to employees, answered questions and visited the kitchen to learn the secrets of making the firm's famous Smoothies.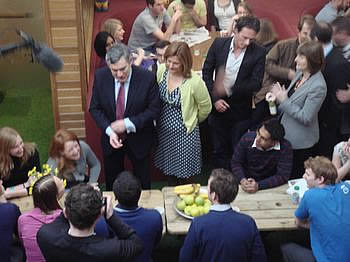 April 7, 2010