Hammersmith and Fulham split into two new constituencies
Gordon Brown has met the Queen this morning, April 6 to ask her to dissolve parliament, and has announced that the General Election will be held on Thursday May 6.
Parliament will be formally dissolved on April 12.
This election will be a very different one for voters in Hammersmith and Fulham, which is now split between two new constituencies.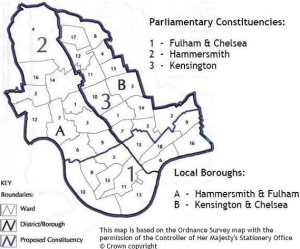 Changes by the Boundary Commission mean that Fulham is now part of the new constituency of Chelsea and Fulham, while Hammersmith and Shepherds Bush have joined together to become the new constituency of Hammersmith.
The Chelsea and Fulham constituency will include everyone living in SW6, while the new Hammersmith constituency will include most residents living in the W12, W6 and W14 postcodes in an area running from Lillie Road in the south to Wormwood Scrubs in the north.
These new constituencies however do not affect the local council elections, which will be held on the same day, with voters choosing 46 new councillors in 16 wards across Hammersmith and Fulham.
To be able to vote in these upcoming elections your name has to be on the Register of Electors. To be included on the register you need to fill in a voter registration form, which can be downloaded from the council website.
The form can be posted to: Electoral Services, Room 28, Hammersmith Town Hall, King Street, Hammersmith, W6 9JU. Alternatively, you can fax your form to the council on either 020 8753 2007 or 020 8753 2229 or email a scanned image of the completed form to electoral.servicesadmin@lbhf.gov.uk
If in doubt call the electoral registration hotline on 020 8753 4466.
We will bring you all the latest news from the campaign front in the weeks ahead.
April 6, 2010