Roads closed and parking suspended on Sunday August 4
Detailed information about how roads in Hammersmith and Fulham will be affected by the cycling event RideLondon have been revealed by the race organisers.

Hosted by The Mayor of London and Transport for London, RideLondon will see 20,000 amateur cyclists ride their bikes through the borough on Sunday, August 4. The amateur event will be followed by an elite race with approximately 150 cyclists.

However, unlike last year's Olympic event, the route for RideLondon will be split, with cyclists riding out of London across the Hammersmith Flyover before completing a course in Surrey and returning through Fulham.

This change of route, together with the huge number of cyclists, means that there will be disruption to transport across the entire borough throughout Sunday, August 4.

The race organisers will be delivering a leaflet, with a map included, to all borough residents next week, detailing the road closures and likely disruption.

The amateur race will set off from the Olympic Park from 6am before travelling through central London. The professional race will start from the same location from 1pm.

The cyclists for both events will ride along the A4 and over the Hammersmith Flyover, before heading over Chiswick Bridge into Hounslow, Richmond upon Thames, and Kingston upon Thames. The cyclists will then head into Surrey and return via Putney Bridge and New Kings Road, before finishing on the Mall.

Cllr Victoria Brocklebank-Fowler, cabinet member for transport and technical services, says: " This is a hugely exciting event but the reality is that the borough will be brought to a standstill.

"Residents need to plan ahead now as there will be significant transport disruption throughout the day, with major roads and bridges closed to traffic.

"The Council is advising residents only to use their car on Sunday, August 4 if it is absolutely vital. If you need to drive, leave plenty of extra time and be prepared for significantly longer journeys."

Detailed road closure and re-opening times:

The event route and some surrounding roads in the borough will be closed to traffic from 5am onwards on 4 August. Local access will be maintained for as long as possible, while access for emergency vehicles will be maintained at all times.
All roads will be re-opened as soon as it is safe to do so. Estimated road re-opening times are:

A4 (westbound to Hogarth roundabout, including Hammersmith Flyover) - From 2.30pm

Kings Road, New Kings Road, Putney Bridge Approach and Putney Bridge – From 7.15pm

A316 (Clifford Avenue and Great Chertsey Road) to Chiswick Bridge and Chiswick Bridge– From 3pm

Battersea Bridge and Albert Bridge – From 7.15pm

Chelsea Bridge – From 7.30pm

Richmond Park – Closed to traffic all day

Hammersmith Bridge and Hammersmith gyratory will be open as usual.

Chiswick and Putney Bridges will be closed from 5am

The A4 will form part of the event route and will be closed westbound from Hyde Park Corner to Hogarth roundabout.

This includes:
* West Cromwell Road
* Talgarth Road
* Hammersmith Flyover
* Great West Road

The A4 will also be closed eastbound from Warwick Road (Earl's Court).

The A3 will be open, although the Tibbet's Corner junction near Putney will be closed

Parking

Parking along the routes will be suspended on 3-4 August. If you usually park on a road that forms part of the route, you should move your vehicle elsewhere the night before, otherwise it may be removed.

There are no planned rail or London Underground closures on 4 August.

For further information, see RideLondon or contact the race organisers on 020 7902 0212 or email helpdesk@RideLondon.co.uk

TfL is also offering 1-2-1 advice to businesses, whose delivery and servicing activities will be severely affected by the event; for information on 1-2-1 advice, contact freight@tfl.gov.uk.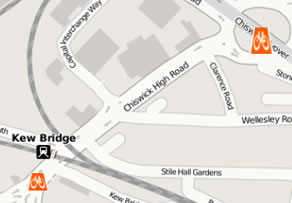 June 27, 2013