Exhibitions starting today show 6,500 homes, new towers, viaduct and canal basin
Residents in Acton can view the latest plans for Old Oak Park, which include West London's tallest skyscraper at 45 storeys, at a public exhibition.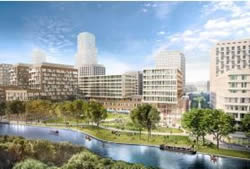 Plans go on show at various locations over the next fortnight and will be at the Holiday Inn in North Acton on July 21st.
Ss well as the skyscraper, Cargiant and London & Regional Properties are also proposing two towers of around 30 storeys and eight over 20 in the new plans for the 46 acre site in the north of Hammersmith and Fulham.
There will also be a new basin created on the Grand Union Canal making the water more accessible, more open space and larger parks for everyone to enjoy, and retention of the 1940's Rolls Royce Building as a hub for start-ups and growing businesses.
The latest plans have revised the number of homes being built from an original total of around 9,000 to 6,500, and promise to provide a variety of different housing types at all price ranges.

The new housing numbers, say the team are " in order to enhance the quality of the public realm and in order to retain some of the existing buildings."
Old Oak Park could bring around 8,000 new jobs to the north of the our borough.

A new London Overground Station on the site, between Willesden Junction and Shepherd's Bush, is proposed by TfL and the Old Oak Park masterplan puts this on a 200 metre long viaduct with a Central Square below.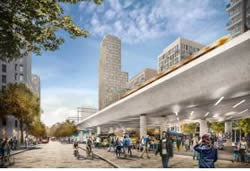 The Central Square at the heart to the Old Oak Park will host local markets and activity space and a neighbouring culturall quarter will host research and educational institutions as well as visitor attractions.
Across the site meanwhile, one million square feet of commercial space will provide opportunities for small and growing businesses who want to be close to the larger commercial hub and connections arriving with HS2 and Crossrail.
Tony Mendes, Managing Director of Cargiant says:" Cargiant has been based at the heart of Old Oak Common since 1985, employing over 800 people and supporting the local economy.
" It's so important to me that in planning for the future of our land, we respond to what is important to the local communities around us – like retaining the 1940's Rolls Royce building and making a more beautiful and safer environment around the canal.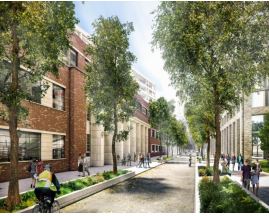 " Neighbouring areas and indeed all of London can benefit from the transformation at Old Oak and I am very proud to be launching this masterplan for consultation."

These updated plans, along with a new model of the scheme are on show to the public at a series of public exhibitions being held over the next two weeks, as follows:
Thursday July 7, 3.30pm - 7.30pm and Friday July 8, 3pm - 7pm - Cumberland House, 80 Scrubs Lane, NW10
Saturday July 9, 10am - 4pm - Linford Christie Stadium, Artillery Way off Du Cane Road, W12
Thursday July 14, 3.30pm - 7.30pm and Saturday July 16, 10am - 3pm - Harlesden Methodist Church, 23 High Street, NW10

Thursday July 21, 3.30pm - 7.30pm and Saturday July 23, 10am - 4pm - Holiday Inn London West, 4 Portal Way, North Acton W3
Members of the project team will be on hand to answer visitors' questions at this, the fourth public consultation giving local people the opportunity to see how the masterplan has evolved and to have their say about the proposed transformation of this part of West London.
Following this final consultation, a planning application is expected to be submitted later this year.

Development of Cargiant's site, between the Grand Union Canal and Willesden Junction, is part of the vision for Old Oak Common which aims to transform a vast swathe of industrial land into a thriving new part of London, supported by the Mayor of London and the local boroughs.
The full exhibition materials will also be available from today, July 7 on the Old Oak Park website.
You can contact the team by email at: oldoakpark@londoncommunications.co.uk
You can speak to a member of the team on Freephone: 0800 046 3379 or write using
Freepost: FREEPOST OLD OAK PARK CONSULTATION.
July 6, 2016