A team of teenage girls will blaze a trail for female rowers at Henley Royal Regatta when they become part of the first schoolgirl's team ever to be allowed to take part in the prestigious event's 173-year history.
Rowing as part of a Quad will be Kate Griffiths and Schuyler Ritchie , both from Chiswick, along with their crew members Rose Maxwell, from Acton, and Hester Odgers. They are representing Latymer Upper School.
The Henley Royal Regatta starts tomorrow (Wednesday) 27th June – 1st July.
The first regatta was held in 1839.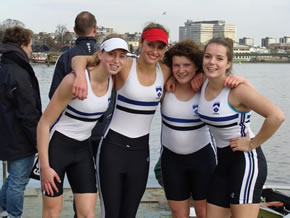 L. to R. Rose Maxwell, Kate Griffiths, Schuyler Ritchie, Hester Odgers.
Only eight crews from around the world are allowed to compete in the new girls' event at Henley this year and the Latymer team beat the American champions and Lady Eleanor Holles School in qualifying to be one of the eight crews.
The Latymer boys' 1st VIII has also qualified to compete at Henley Royal Regatta.
June 26, 2012