Are you interested in volunteering with Hammersmith Community Gardens Association?
HCGA holds induction sessions for those wishing to volunteer on the first Wednesday of each month. In April the session will be at Phoenix School Farm in Bloemfontein Road, White City.
These sessions offer an opportunity to find out more about volunteering projects, how you can get involved, as well as an opportunity to visit the association's sites.
They are informal, and offer the chance to meet current and new volunteers. This month's session is on Wednesday 3 April from 10am till 11.30am.
For more information or to book a place please contact Katie on 07890514050 or Katie@hcga.org.uk.
It will be followed by the regular monthly volunteer gardening day at Loris Garden on 7 April and family play activities at Loris Garden, Godolphin Garden and Ravenscourt Park Glasshouses throughout the Easter holidays.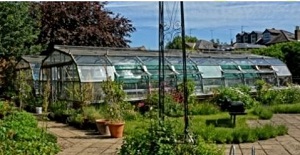 Here's this month's schedule in full:
03/04/2019
10:00 am - 11:30 am
Volunteer Introduction
Phoenix School Farm, Phoenix School Farm Bloemfontein Road
07/04/2019
11:00 am - 3:00 pm
Monthly Volunteer Gardening Day at Loris Gardens
Loris Garden, Loris Garden Loris Road
09/04/2019
10:00 am - 4:00 pm
Family Play Activities at Loris Garden
Loris Garden, Loris Garden Loris Road
10/04/2019
10:00 am - 12:00 pm
Family Play Activities at Ravenscourt Glasshouses
Ravenscourt Park Glasshouses, Ravenscourt Park Glasshouses Ravenscourt Park
10/04/2019
1:00 pm - 4:00 pm
Family Play Activities at Ravenscourt Glasshouses
Ravenscourt Park Glasshouses, Ravenscourt Park Glasshouses Ravenscourt Park
11/04/2019
10:00 am - 4:00 pm
Family Play Activities at Godolphin Gardens
Godolphin Garden, Godolphin Garden Godolphin Road
16/04/2019
10:00 am - 4:00 pm
Family Play Activities at Loris Garden
Loris Garden, Loris Garden Loris Road
17/04/2019
10:00 am - 12:00 pm
Family Play Activities at Ravenscourt Glasshouses
Ravenscourt Park Glasshouses, Ravenscourt Park Glasshouses Ravenscourt Park
17/04/2019
1:00 pm - 4:00 pm
Family Play Activities at Ravenscourt Glasshouses
Ravenscourt Park Glasshouses, Ravenscourt Park Glasshouses Ravenscourt Park
18/04/2019
10:00 am - 4:00 pm
Family Play Activities at Godolphin Gardens
Godolphin Garden, Godolphin Garden Godolphin Road
April 1, 2019