Passengers should pay only once when crossing closed bridge
Bus passengers travelling southwards from Shepherd's Bush when Hammersmith Bridge is closed will need to break their journeys in Hammersmith and take a second bus – but should not swipe their Oyster cards again.
At times when the bridge is closed, the 283 from East Acton via Shepherd's Bush is terminating on the northern side of Hammersmith Bridge. From there, passengers will need to walk over the bridge and pick up another bus on the Barnes side, such as the 33, 209, 419 or 485. However, passengers should not have to pay again on the second bus.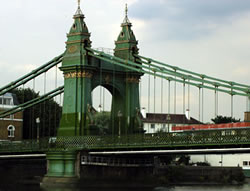 "The closure of Hammersmith Bridge by Richmond Council means that a number of bus routes are either diverted or are terminating either side of the bridge," said a Transport for London spokesperson.
"Ticketing acceptance arrangements have been put in place for passengers who are no longer able to cross the river undertaking a single bus journey. All that passengers need to do when their bus terminates at Hammersmith Bridge is walk across the bridge and show their paper ticket to the bus driver on the other side.
"Oyster pay-as-you-go users just need to tell the driver that they touched in on the previous bus. Any pay-as-you-go customer who believes that they have paid twice for their journey should contact Oyster customer services to have their claim looked at."
The 72 bus from from East Acton, via White City and Shepherd's Bush, is diverted in both directions via Fulham Palace Road, Putney Bridge, Lower Richmond Road and Mill Hill Road, rejoining its normal route at Rocks Lane in Barnes.
Hammersmith Bridge will be closed to traffic every weekend until March 15 and for the whole of half-term week (February 13-22, until 5am).
The bridge will remain open at all times for pedestrians and cyclists.

February 22, 2010