University of West London to make financial contribution in return for access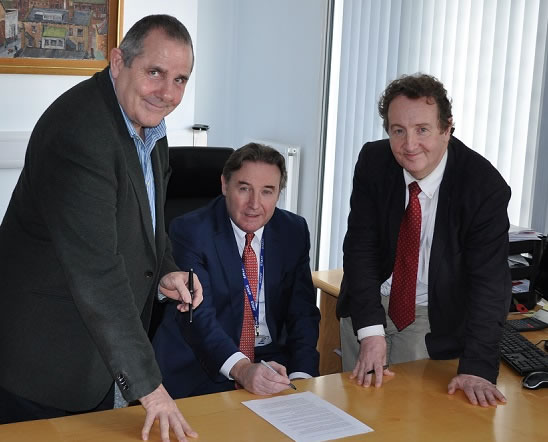 (left to right): Cllr Steve Curran, Leader of Hounslow Council, Prof Peter John, Vice Chancellor of University of West London, Cllr Julian Bell, Leader of Ealing Council
A deal has been signed between the two local authorities responsible for Gunnersbury Park and a local university which will allow their students to use the sports facilities at the park once they are built.
In return for student access to the sports and leisure facilities, the University of West London is making a £2million contribution to the £13.8million estimated cost of the development. The university and the Councils have signed a memorandum of understanding to that effect.
A two-storey Sports Hub building with basement is to be built on the 'redundant' bowling green (between the car park and the children's playground). This will contain a 5 court sports hall, multi-use studios and associated changing facilities, cafe community room, archive store and office accommodation.
All the outdoor sport at the site would be relocated at the top end of the field to be closer to the changing facilities which will be in the new building. There are planned to be 8 full size natural grass football and rugby pitches, with some junior-sized pitches, and 3 adult cricket pitches, 2 artificial grass pitches and a multi-use games area. The pitch and putt course will now be moved to the bottom of the field, near to the Potomac Lake.
These sports and leisure facilities are part of the wider £50million Gunnersbury Regeneration Project to transform the Large Mansion, museum, sports provision, historic park landscape and other buildings in Gunnersbury Park in time for the 100th anniversary of the public park in 2026.
Vice Chancellor of the University of West London, Professor Peter John said, "This new sports facility is an excellent example of the strong partnership that exists between the University and its boroughs. The memorandum of understanding is also a huge step forward and forms part of the anchoring strategy that is central to the University's strategic ambitions.
Leader of Hounslow Council, Councillor Steve Curran described the move as a positive step and Leader of Ealing Council, Councillor Julian Bell said it demonstrated a continuing commitment to the Gunnersbury Sports Project.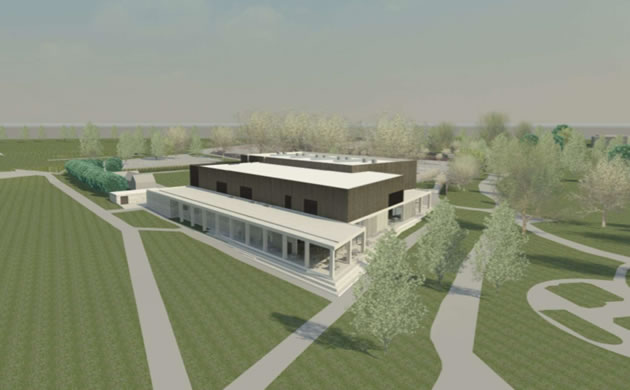 Sports Hub building will be on the site of the bowling green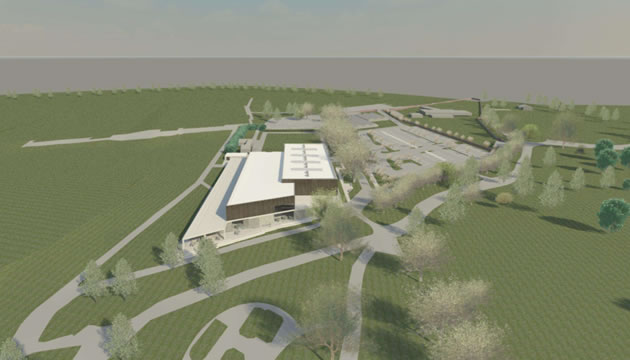 Aerial view of the planned sports hub at Gunnersbury Park
February 13, 2018