Permission sought to host music, film, and other public events for almost 50,000 people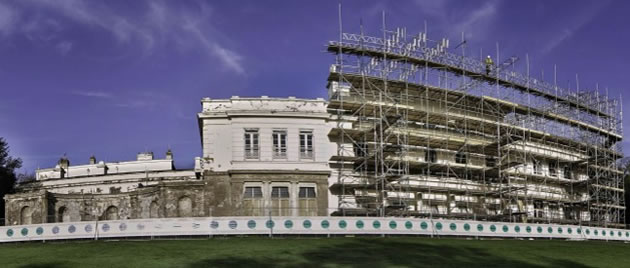 Image; Maggi Marmion
The management of Gunnersbury Park appears to be planning to use the facilities for outdoor public events, including possible music concerts.
A licence application to Hounslow Council requests provision for 'entertainment' facilities for up to 50,000 people - that would be in keeping with large public events such as festivals or music concerts.
This does not necessarily mean large scale events will be taking place on a regular basis although the likelihood is that there will have to be some commercial events, large or small, to help the facility pay its way.
A draft Events Policy is currently being finalised and some useful information and background on the matter can be read here with regard to plans for community, charity and commercial events of varying sizes.
Any comments on the application have to be submitted by 12 July.
It was known that the plans for the area, currently undergoing a huge restoration project, would have to include commercial options as part Phase 2 in its development.
The park is owned jointly by Hounslow and Ealing Councils and run by a Community Interest Company (CIC), whose purpose is to run Gunnersbury for the benefit of the community.
It had been suggested then that the Orangery be available for weddings and other events, while, "due to the nature of the buildings it is believed the only way to enable any potential development that could include communal use is to allow a commercial element in both buildings.
"Without this element viable business plans could not be feasible."
The licensing application states: "These events will vary in nature, content and capacity but all proposals will be part of an approved programme, developed in conjunction with the London borough of Hounslow Safety Advisory Group."
The licence would allow for events starting as early as 9.30 or 11am but with most finishing at 10.30pm.
The park has hosted large events before including the London Mela which is due to take place again this year in September.
The Friends of Gunnersbury published an update for members of the public a few months ago on the current restoration project, which includes information on the current building works and the need for commercial options in future.
The website states that; "Due to the restoration project at Gunnersbury it is not currently possible to hire spaces for private events. After the works are completed in 2018 there will be a range of stunning spaces available for all types of private events."
It is hoped that the cafe could be open in August this year, 2017 with the main opening by Spring 2018 but this depends on operational practicalities as well as continuing works in the immediate area. The update can be read here.
Gunnersbury Park and Museum is currently being restored with a variety of grant aid from Heritage Lottery, (£51 million) both local authorities, (Hounslow and Ealing) and Historic England.
In the 1760s the estate was purchased and held in trust for Princess Amelia, the favoured daughter of King George II. Gunnersbury was the venue of her new summer retreat away from the pollution of central London.

A major redevelopment of the sports and leisure facilities in Gunnersbury Park is also underway.
The proposal is to build a two-storey Sports Hub building with basement on the redundant' bowling green (between the car park and the children's playground). This will contain a 5 court sports hall, multi-use studios and associated changing facilities, cafe community room, archive store and office accommodation.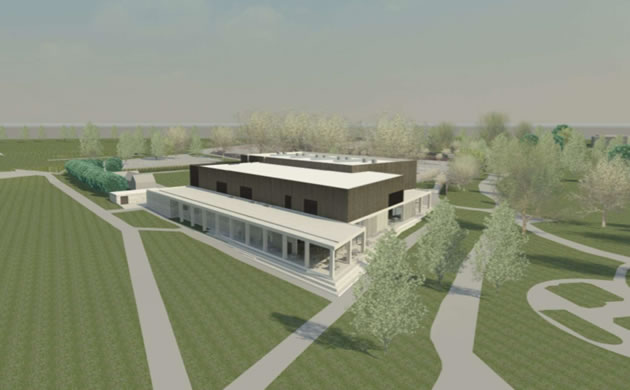 Sports Hub building will be on the site of the bowling green
Tennis courts will be laid out with floodlighting which will also illuminate the artificial grass pitches. There will be an out-door gym, distance markers and a trim trail to help people use the park for exercise.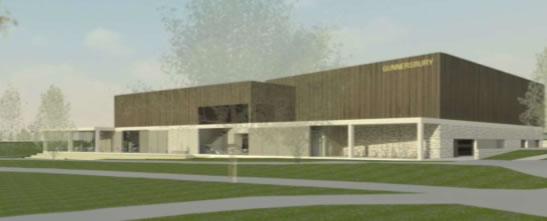 Gunnersbury Park Sports Hub
July 10, 2017