THE CIRCUS IS COMING TO TOWN
The World Famous Zippos Circus is once again performing locally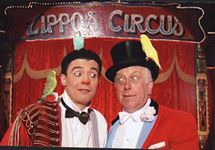 With more surprises, spectacle and hilarity than you could ever imagine Zippos Circus rolls into 2002 with a stunning all new line-up of international acts including the uproarious Aquabatic Clowns, the Kotov Troupe of high speed aerial performers from Russia, Hungarian-born Carlos Ramwell, winner of not one but two prizes at the recent World Circus Festival and new for 2002 principal clown from France, Mathieu.
This dazzling new technicolour show, which also features stunning equestrian acts, an extraordinary Chinese Bungee number, and other stunning trapeze acts is presented by world-famous Ringmaster Norman Barrett, whose fabulous performing Budgerigars are back in 2002 by popular demand!
Barnes Barn Elms Playing Fields Rocks Lane
Thursday 20th to Tuesday 25th June
20th: 7.30pm
21st: 5pm & 7.30pm
22nd: 3pm & 6pm
23rd: 11am & 3pm & 6pm
24th: 5pm & 7.30pm
25th: 5pm
Chiswick Acton Green
Thursday 27th June to Tuesday 2nd July
27th: 7.30pm
28th: 5pm & 7.30pm
29th: 3pm & 6pm
30th: 11am & 3pm & 6pm
1st: 5pm & 7.30pm
2nd: 5pm
Every opening night all seats are at a special offer price of £3.99 after that they are: Ringside Adult £14 Child £11 Grandstand Adult £10 Child £8 Side View Adult £6 Child £4
The credit card hotline number is 0871 210 2100 open 9am - 9pm daily (£1 transaction fee applies on whole booking regardless of number of tickets
purchased)
Tickets priced from £4 children/£6 adults. Advance booking is recommended.
For more details www.zipposcircus.co.uk

Aquabatic Mayhem
Think water with a capital W for this hilarious act. In their side-splitting routine, the Aquabatic Clowns from Russia, explore every possible variation on the theme of getting wet, in an act that Paul Merton called 'visual poetry'. 'I roared with laughter more than I ever have in a theatre or cinema' he wrote. The clowns second number is equally hilarious, involving a comic acrobatic act where they literally 'bounce' around the ring with inflatable bags strapped to their backs.
More comic genius in the show comes in the form of Mathieu, a French clown who is the master of facial expression, vocal sound effects, mime and simply being funny. Appearing several times during the show, Mathieu has the audience transfixed and in stitches with his hilarious ever-changing voice and facial features, reminiscent of Jim Carrey and Robin Williams. He is also the master of audience participation and provides the perfect funny man to Ringmaster Norman Barrett's 'straight man'.

Pint-sized Fun
Joining the circus for 2002, with his parents in tow, is 11 year old Bippo - Zippo's protégé and namesake who was first trained by the great man 6 years ago. Bippo, who is an extraordinarily talented youngster will combine his training and foyer performances with his school work, via a distance learning programme.
Ooohs, Aaahs and Eye Candy
Creating the Ooohs and Aaahs in the show is the Kotov Troupe, who are making their first appearance in the UK, direct from Ringling Barnum & Bailey Circus. Trained at the Moscow State Circus School, this group of ex-Olympic athletes, leap from bar to bar exhibiting an adrenaline-pumping display of high-speed gymnastic stunts - guaranteed to leave the audience wide-eyed in amazement.
More extraordinary gravity-defying acrobatics come courtesy of a three man Chinese Bungee team, striking Robert Foxall, appearing in a dreamy and beautifully choreographed 'cloud swing' number - pure 'eye candy'!
Meanwhile, there is more high-speed action from Hungarian-born Carlos, who lives up to his reputation as 'the fastest juggler in the West' with an awesome, whirlwind routine. Carlos is the only juggler ever to win two prizes at the World Circus Competition.
Add to this a new beautifully executed equestrian act from award-winning Tom Roberts and his Palomino horses; a Birds of Paradise routine starring the dashing and debonair Ringmaster Norman Barrett and his budgies, charivari unlimited, the smell of candy floss, popcorn and sawdust, and, no matter how old you are, you'll be reduced to a wide-eyed kid!