Witty and poignant stories told in film and photo
Related Links
Take me to London! Opens at Watermans on Jan 26 and will continue until March 1. The exhibition will then tour to Heathrow Terminal 5.
London – Delhi 2010 – 2012 opens on Jan 27 and continues at Watermans until Feb 27. The opening hours for both exhibitions are 12 Noon – 9pm. Entry is FREE for both exhibitions
Watermans
40 High Street
Brentford TW8 0DS
Box Office: 020 8232 1010
Watermans website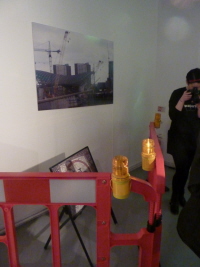 Participate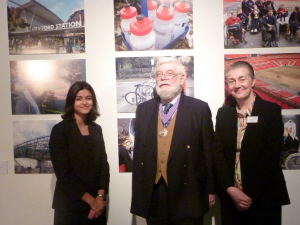 Munira Mirza, Advisor for Arts & Culture to the Mayor of London, accompanied by Councillor Paul Lynch, Mayor of Hounslow and Jan Lennox, Director of Watermans at the opening of two superb exhibitions at the Watermans that celebrate London in the lead up to 2012.
Take Me to London & London–Delhi 2010-2012 have embraced a variety of young people from the boroughs of Hounslow and West London, who have explored new parts of their city, learned new media skills, worked with artists and trainers to produce short films that tell different stories about their experiences.
Both of these exhibitions are the culmination of projects that have been designed to enable young people from different communities and with different experiences and abilities to learn new digital media skills and to put these to use and to expand their horizons by exploring new concepts and places.
They also enable young people to feel more involved in London 2012 as well as providing an original record of the way London is anticipating and changing as 2012 approaches

Take me to London! is a creative digital media project in which hundreds of young people learned new skills in film-making and digital photography. Once trained, the young people visited the sites of the London 2012 Olympic and Paralympic Games and made digital stories about their visits. The Take Me to London! Exhibition features photographs, films and written records about their perceptions to the venues hosting different activities as part of the games.
The venues visited were Dorney Lake (Rowing and Kayaking), Horse Guards Parade (Beach Volleyball), Regents Park (Cycling), Wembley (Football), Wimbledon (Tennis) and Stratford (Olympic Park). Watermans would like to thank them for their enthusiastic co-operation.
Take Me to London! project occurs every year until the games begin. It brings together fresh perspectives of the challenge represented by the games and will reveal how young people's perceptions of their city change as we approach 2012.The current films are at once humorous, disbelieving, respectful and inspiring.
Take me to London! was conceived by Watermans and produced by Watermans and Chocolate Films and is funded by London Councils as part of its 2012 cultural activities programme.

London –Delhi 2010 – 2012 is another digital arts collaboration between artists and young people from the two capital cities, creating and sharing contemporary stories. It will explore the large scale structural changes taking place in the wake of Delhi 2010 & London 2012. The project began in June 2009 with an Artists Lab in which artists from both cities defined the 'entry points' of the project for subsequent workshops to explore. There were Urban Frontiers, Riverfront and Electronic Fortification. The second phase has concluded with artists leading workshops with young people in London to explore these ideas through the medium of sound, CCTV footage, film and photographs.
For London – Delhi 2010 – 2012, Watermans would like to acknowledge the support of the Greater London Authority and the Mayor of London as a major project partner and of Mediabox for part 2.
February 5, 2010