Spend half term playing football with Brentford FC Community Sports Trust

Brentford FC CST is pleased to announce that the dates for the forthcoming Whitsun Soccer Schools 2012. Venues are at Chiswick Community School and GOALS Soccer Centre in Osterley.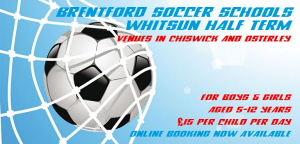 Prices start from £15 per child per day for all early bird and online bookings.
Soccer schools run from 10am to 3pm and are open to boys and girls aged 5-12 years. All abilities are catered for.
Please note all participants will receive a voucher for 1 adult and 1 child ticket to see Brentford FC at Griffin Park during Season 2012/13
To book online please visit http://www.officialsoccerschools.co.uk/brentford or download and complete the booking form (pdf) and return to the Trust. Please note that places will not be booked until
payment is received.
If you need any more details then please contact the Trust via email at enquiries@brentfordfccst.com or call 0844 247 1889.
May 25, 2012