Small Mansion Arts Centre hosts transformed postcards exhibition
The Small Mansion Arts Centre are hosting a 'transformed postcards' exhibition during half term and invite local artists and residents to submit up to three modified postcards of their choosing (submission closing date 21st October 2005 delivered to the Small Mansion Arts Centre, Gunnersbury Park London W3 8LQ).

The idea behind the show is to encourage a widening participation of the arts locally and to encourage local people to come and see what is possible at the Small Mansion Arts Centre which is currently under threat from eviction.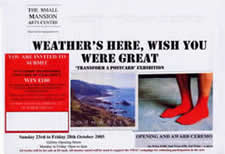 Works submitted will be donations to the Small Mansion Widening Participation Fund and will be on sale for £5.
Works will be judged by a panel of experts who will award a 1st prize of £100, 2nd prize of £50 and a mystery 3rd prize.
All monies raised from the event will be used by the arts centre to develop a programme of activities to encourage young people between the ages of 16 to 18 to explore their curiosity about making art and potential careers in the arts sector.
The show runs from Sunday 23rd October to Friday 28th October and includes an opening and awards ceremony. Opening Hours Sunday 23rd October 2pm to 6pm. Full details are available on www.smac.typepad.com
October 15, 2005