Nick Hennegan gives The Importance of Being Earnest a thumbs up
The Importance of Being Earnest by Oscar Wilde is considered by many to be the perfect play - a comment and comedy on contemporary society. It's a decidedly silly plot about mistaken identity and two young women who will only marry a man called Earnest. But to add songs to the piece to produce a musical sounds like a crass case of classic exploitation. And having plummy ex-politico Gyles Brandreth playing the iconic Lady Bracknell would seem a celebrity indulgence too far.
Yet this mannered chamber-musical plays a straight bat throughout and delivers a charming and open-hearted game. True, the second act is the stronger and it may be no coincidence that there is less Lady Bracknell. It's also true that the funniest lines belong to the original author, but Iqbal Khan's deft direction, clever casting and decision to transfer the period to the roaring 20's give the musical a good heartedness and joy often missing from some productions of the maybe mealy-mouthed original.
There are one or two contrived offerings, but the music and book by Douglas Livingstone actually adds elements to the story. The duet 'It all Began in a Garden' is an undoubted highlight thanks to the excellent comedic marriage of Susie Blake as Miss Prism and Edward Petherbridge as Canon Chasuble. Anya Murphy as Gwendolyn and the radiant Flora Spencer-Longhurst's Cecily are also particularly noteworthy. Cecily's sung attempts not to dance and be a bit 'Naughty' is all disarming delight. And laddish feet tap to the tune and conceit of 'On The Spree'.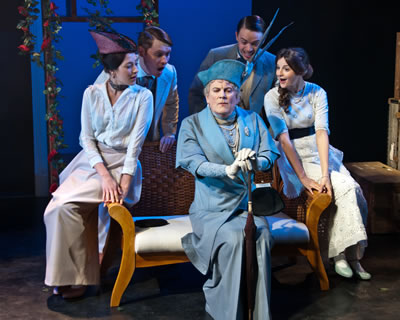 Photo: Luke Dixon
Gyles Brandreth is careful not to overplay Lady B although there is some vacillation of character, but this gentle, warm and intimate offering, if not perhaps theatrically important, is certainly not over Earnest and well worth a trip to the Riverside.
Nick Hennegan

December 28, 2011