At Enoteca Turi, 28 Putney High Street SW15 1SQ Tuesday 3rd November, 12.30pm
The Royal Hospital for Neuro-disability is holding a unique event to raise awareness of the RHN's work with nutrition and swallowing difficulties, a charity lunch at Putney's well-known Enoteca Turi restaurant.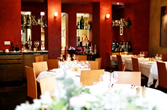 On Tuesday 3rd November, Enoteca Turi hosts its first major charity lunch, in support of the Royal Hospital for Neuro-disability. Enoteca Turi – one of the finest Italian restaurants in London – not only specialises in authentic regional cuisine, using traditional seasonal Italian ingredients, but is also the place to experience some of the best Italian wines in the capital.

This event will include a delicious three-course meal followed by a unique insight in to some of the innovative treatments and technology devised by the RHN, which aims to find ability in disability.

Pamela Turi, co-owner of the restaurant says:
"My mother died several years ago with Motor Neurone Disease; when I heard about the fantastic work that the RHN does to restore independence and quality of life, I couldn't fail to draw parallels with how my mother managed to achieve this whilst living with her condition. I hope that by hosting joint events we can carry on raising awareness of what can be done for others with similar neurological conditions."

Sue Shillabeer, Head of Communications at the RHN says, "Over 80 per cent of our residents have special dietary needs brought about from swallowing difficulties and we are, for example, developing an electronic menu system to allow us to meet individual requirements. We're delighted to be working with Enoteca Turi and are looking forward to what we can achieve together!"

Tickets are £65 each. Unfortunately space is limited so early booking is advisable.
September 11, 2009