The Full Nelson at Questors
Related Links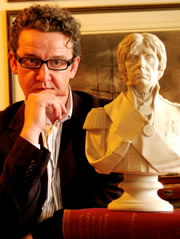 Gregor Truter of Doctors fame
Participate
The Questors Theatre, 12 Mattock Lane, Ealing, W5 5BQ on 020 8567 5184 or via Box Office on 020 8567 5184 (Mon-Fri 11.00am-1.00pm, Tues-Fri 6.45-8.30pm)
24-hour online booking:
The Full Nelson
The Questors Theatre Studio on Friday 10th April at 7.30pm and Saturday 11th April
at 2.30pm & 7.30pm.
Gregor Truter wrote The Full Nelson after being asked if Nelson was 'that bloke off the Admiral adverts'.
Once he had calmed down he decided the best way to ensure this didn't happen again was to create a show.
Armed only with the blackboards, chalk, and a rather obsessive desire to educate the world about his personal hero, Gregor takes the audience on a voyage from rural Norfolk to the hurly burly of Trafalgar, via the West Indies, the Arctic, the Nile and the most beautiful woman in Europe. A hilarious tale of hooliganism and heroism on the high seas.
In the centre of our capital city, watching over our Houses of Parliament and our Monarchy, stands Rear Admiral Horatio Nelson, the Greatest Sea Captain this country, and the World has ever known.
His career took in the might and violence of the French Revolution and brought him into direct conflict with Napoleon Bonaparte, the Corsican genius, whose desire to invade England Nelson took personally.
Nelson's death at the battle of Trafalgar provoked an unprecedented outpouring of grief and the biggest funeral this country has ever seen. How did the small sickly son of a norfolk Rector end up with the love of a Nation?
Find out at The Questors on April 10-11 in this fascinating one man show - written and performed by actor Gregor Truter, whose credits include Shakespeare in Love and The English Patient. Numerous TV appearances include Silent Witness, Wire in the Blood. He is currently in Doctors on BBC.

Some comments on the show so far:

'Enjoyed it enormously - great fun, wit and bawdiness..and I learnt so much...
brought Nelson back to life for me...this should tour all over England!'

'Full of humour, drama and passion''
April 2, 2009