The girls won a seat in the motor launch which travels behind the Oxford and Cambridge boat crews after clinching victory at the National Indoor Junior Rowing Championships.
The senior girls' team won gold after rowing the greatest distance in 20 minutes.
Victory qualified the girls for a chance to win a trip on the launch. They were pitted against the winners of the boys' event. In true boat race style, the decision was made by the toss of a coin. Fortunately for Putney, 'tails never fails'!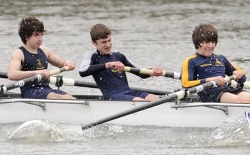 Putney's second team finished just out of the medals in an event attracting more than 80 girls.
Meanwhile, the Year 10 team earned a silver medal in the team sprint of 2k, building on the bronze medal they won at the South of England Indoor Rowing Championships earlier this year.
Putney rowers from Years 8 to 13 took part in the championships, held at Battersea.